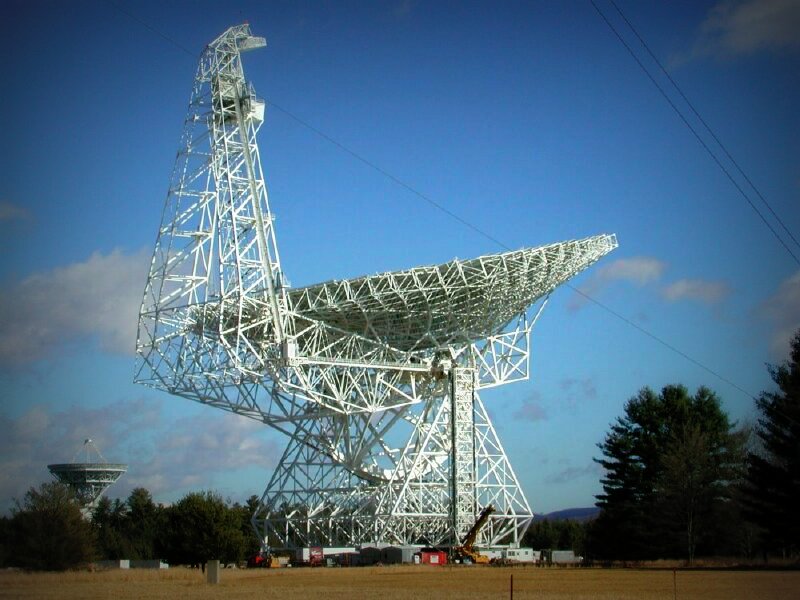 Could it be we will have a true geosynchronous satellite for Amateurs in 2017?! I hope so, and we will not need an antenna this big to use it!
This was first reported in Wireless Design Magazine
Researchers at the Ted and Karyn Hume Center for National Security and Technology are preparing to send an amateur radio transponder into a geosynchronous orbit in 2017.

"Seven days a week, 24 hours a day, 365 days a year, a new ham band will be available for the Americas," said Robert McGwier, a research professor in the Bradley Department of Electrical and Computer Engineering and the Hume Center's director of research. "It will allow rapid deployment to disaster areas and support long-haul communications for first responders."

This would be the first amateur or "ham" radio payload in a geosynchronous orbit, and would significantly enhance communications capabilities for amateur radio operators, in particular following natural disasters or other emergency situations. The Hume Center team met with Federal Emergency Management Agency Administrator Craig Fugate in September to discuss the project.
The full article may be found following this link.
I have really been enjoying trying to catch the satellites and the International Space Station as I am able, but it really is catch as catch can due to orbiting times and changing horizon points. A geosynchronous orbit satellite means we could plant an antenna pointed directly at the satellite and find it there day or night. I for one am ready!! I might even dedicate an inexpensive dual-band radio to it assuming typical satellite repeater protocol is used.
I will post more details as I find out additional information.  Cheers! Robert
Robert Gulley, AK3Q, is the author of this post and a regular contributor to the SWLing Post. Robert also blogs at All Things Radio.