Many thanks to SWLing Post contributor, Dan Srebnick, who writes:
While DRM (Digital Radio Mondiale) has long been pronounced DOA (dead on arrival), All India Radio seems to be taking it pretty seriously. Here's a screenshot of not one, but two simultaneous feeds going out over the same 10 kHz wide 40 meter frequency (7,550 kHz) at 2027 UTC today. The signal on my Perseus was just a tad under S9+5db using my ham band Alpha Delta DX-CC antenna.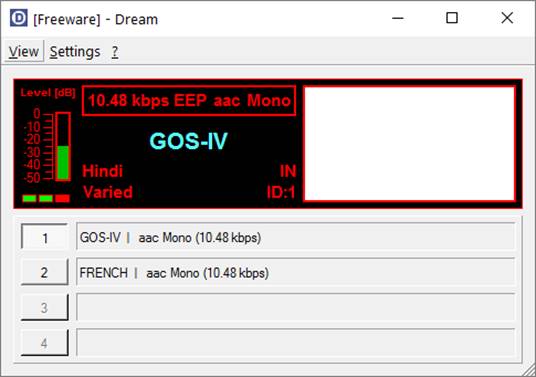 So what's the twist, aside from the 2 feeds on 1 frequency? Even at +5 over S9, the feed was only strong enough to occasionally flutter in with some decoded audio. Mostly, it was silence.
[I had] about a 98% successful decode by 2051 UTC when the signal rose to S9+10 db. I could switch between streams by clicking channel button within Dream!
Dan wrote the message above yesterday, I asked him if he could record AIR  today and he kindly sent the following:
AIR DRM recorded today with announcements @ 1930 UTC. Some dropouts as a
great example of the dropout/echo effect heard on DRM when signals are quite
strong enough. This decode was done at S9 signal strength.
Dan actually calls the DRM dropouts, the "Max Headroom Effect."  That is the best description I've ever heard, Dan.  Thanks for sharing your notes and recording!