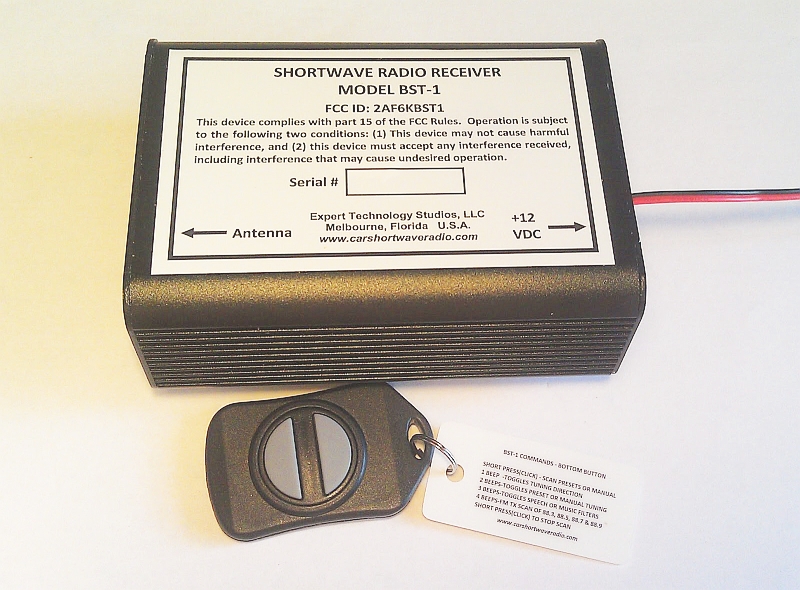 Tonight on Allan Weiner Worldwide (WBCQ  7490 kHz coming in beautifully on my FRG-7) Allan mentioned a shortwave radio converter for car radios. The package uses a small box which plugs into the cigarette lighter socket and can either use an antenna made for the converter or an antenna supplied by the user. The unit can display frequencies through the FM RDS display, and has a key-fob controller for scanning and saving stations into memory.
Here are some of the features listed by the manufacturer:
FEATURES OF THE BST-1

Excellent sensitivity – 0.5 microvolt at the antenna connector will stop the preset scan and provide a very listenable signal.
Automatic Gain Control – Keeps audio levels constant for weak and strong stations.

Full Shortwave band coverage – tune to any 5 kHz spaced AM channel from 2.3 to 26.1 MHz.   The frequency coverage is actually from 150 KHz to 30 MHz but with reduced sensitivity when operating outside of the shortwave bands, especially below 1.8 MHz.  This extended frequency range lets you listen to the 10 and 160 meter ham radio bands as well as CB channels.  If you are close to the transmitting antenna, you can even hear airport beacons in the 200 to 400 KHz radio-location band.


DSP (digital signal processor) selectivity – Sharp 3 kHz for speech or wider bandwidth for Hi-Fi music.

Noise Blanker – A digital noise blanker greatly eliminates any spark plug noise from car engine that can disrupt reception.Built-in crystal controlled FM transmitter –  Has RDS to display 5 digit tuned shortwave frequency and preset channel number/ "S" meter on the vehicle's FM radio.

Four BST-1 broadcast FM frequencies can be selected by the Key Fob Controller so you always have a clear FM channel to use.  Programmed with 88.3, 88.5, 88.7, and 88.9 MHz – one of these channels will always be clear to listen for the BST-1's FM transmitter.

If you know Morse code for the numbers 0-9 (very easy to learn), you can use the Key-Fob to activate a Morse code annunciation of tuned frequency.   This aids in operation if your FM receiver doesn't have RDS display or if you can't look at the display on the FM radio while driving.

Key-Fob command for instant selection of WWV channels – 5,10,15, and 20 MHz for accurate time and signal propagation checks.

High or Low sensitivity selection by the Key Fob – Optimum performance can always be obtained during conditions of very strong signals.

Rugged construction – Designed for automotive use.

Memory storage of up to 100 preset channels-  After changing channels, the preset channel is shown on the RDS display for 3 seconds and then the display switches to show the "S" meter.

The BST-1 can be manually tuned to any 5 KHz channel in the turning range and if desired, that new frequency stored in preset memory (up to 100 presets).  Note that the BST-1 radio is AM reception only so 5 KHz tuning intervals are optimum since all International Shortwave stations are on 5 KHz channels. A digital AFC (Automatic frequency control) circuit in the BST-1 is used to automatically compensate for stations that are slightly off (+/- 150 ppm) the exact 5 KHz channel.

Pre-programmed- The BST-1 is ready to start listening right away.  Comes with 50 popular U.S. and International shortwave stations as well as WWV at 5,10,15 and 20 MHz.

Easily add or delete preset channels using the Key Fob controller.
---
For a starting price of $179.50 (as of this writing) plus shipping, this is an intriguing possibility for having shortwave radio in the car. 73, Robert