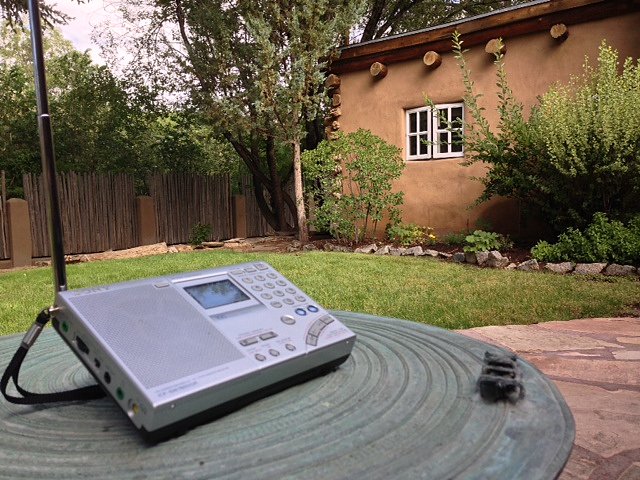 Though I have a lot of shortwave portables, the Sony ICF-SW7600GR is still one of my favorites. Why? Despite its ergonomic shortcomings, it's a solid performer with a robust sync detector and stable AGC. Check out how it compared with other benchmark portables in our Mega Review.
I understand that Sony no longer manufactures the '7600GR–perhaps this is why the price of new units has increased in recent months. Still, I occasionally stumble upon reasonable deals online. Once new stock is depleted, though, I forecast prices will increase accordingly.
Here's where I've found reasonable deals on new units:
eBay

Though eBay claims the trending price is close to $180, there are a few sellers who have new units with a BuyItNow price of $140-145, shipping included.
I would even feel pretty confident purchasing a used '7600GR from an eBay seller with good ratings. Be careful, though: some used units might have problems with the telescopic whip antenna or corrosion in the battery compartment (for example). Make sure you read the item description carefully prior to bidding/purchasing.
Blinq.com

Though less frequently than in the past, Bling.com occasionally acquires new, used and open box '7600GRs.
Indeed, at time of posting, they actually have one in stock (!!!)--the first I've seen in a few months.
I buy from Blinq with confidence because their return policy is so flexible. Blinq pays return shipping and takes the product back with no questions asked, should you find a problem or if it's not as described.
Helpful hint: If you've never visited Blinq.com, or if you open their website in a private/incognito window, Blinq will typically pop up a window offering 10% off for new shoppers as long as you subscribe to their newsletter. You then receive a coupon code via email you can use with the first order.
Click here to search Blinq.com for the Sony ICF-SW7600GR.
Amazon.com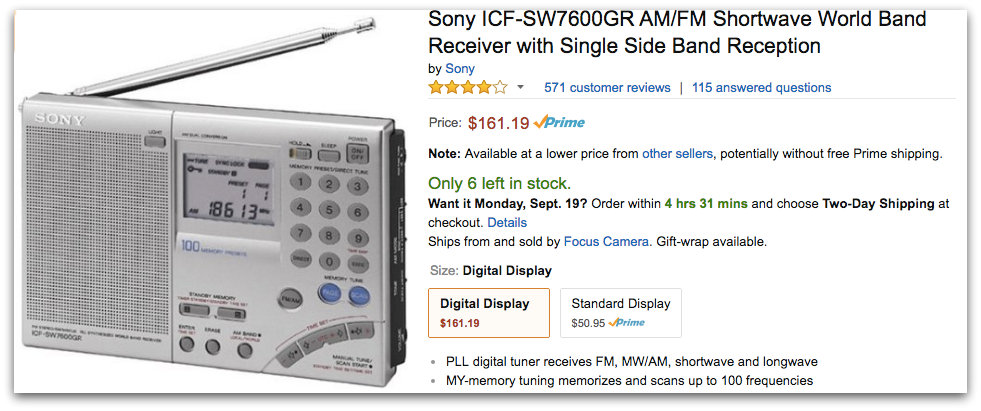 At time of posting, Amazon does have a few sellers offering new and used '7600GRs.
Keep in mind, though, that these are being sold by third parties, not directly by Amazon. Sometimes additional shipping charges apply and sometimes the return policy may not be as forgiving as Amazon's own. Still: there are a number of new units available.
Universal Radio

While Universal Radio no longer stocks new Sony ICF-SW7600GRs, they do occasionally receive used ones on trade. This is how I purchased my '7600GR many years ago: from Universal's used stock. You can buy from them with confidence because Universal even gives a warranty on most of their used items.
Click here to check Universal Radio's used radio index.
Know of any other reliable online sources for the ICF-SW7600GR?  Please comment!