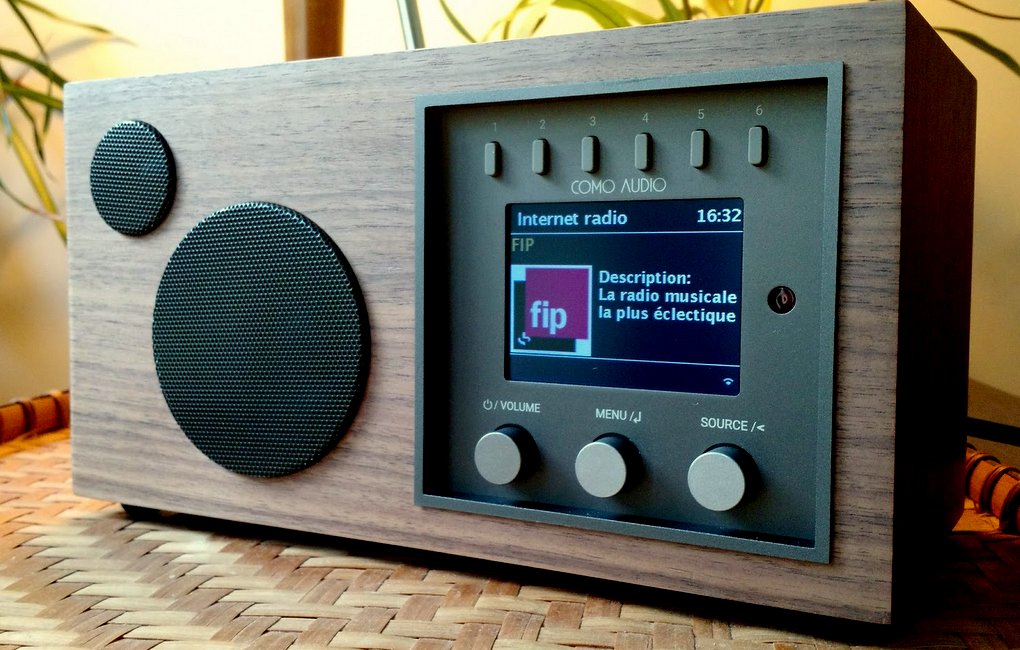 Many thanks to SWLing Post contributor, Mark Fahey, who shares the following reply to our Como Audio Solo review:
I am a heavy user of internet radios and have a few scatted around the home, the one most frequently used is the Grace in the kitchen. What stations do people listen to?

I listen to lots of different things while cooking, what I do is tune to a station local to whatever I am preparing. So that means a lot of Asian stations; Indonesia, Vietnam, India, Japan, China, Laos etc! A few months ago spending time in Southern California put me in the mood for Mexican food, so there has been a lot of Mexican radio playing in the kitchen lately. On the special occasions when cooking Grits for breakfast I usually listen to 103.3 AshevilleFM.
[Note to Mark: I'd like to think I have something to do with the fact you're one of the only guys cooking grits in Australia! -Thomas]
The Logitech in the bedroom is usually tuned into European stations late a night as I drift off, and as I wake up and dress I'm usually listening to Japanese community radio stations.

In the main living area mostly USA alternative and indi rock, NPR or college radio is on.

I am a very serious flight-simmer and love exploring around the world this virtual way. I'm very serious about this so preflight and route planning takes up to an hour, so in the hours before a flight I quite typically listen to a station in the city my Cessna-404 twin turbo happens to be at that particular time.

I'm kind of interested – what are you guys listening to on internet radios?

PS. Oh and the Como Solo looks great – Im ordering one!
Your query is timely, Mark, as someone recently asked me the same question.
I primarily use Internet radio to listen to music and local news outlets.
In terms of music, I love almost everything, but especially Jazz, Classic Rock, Big Band, Brazilian music, French, Mambo, Zydeco, Electronica, and, frankly, anything a little eclectic and musically interesting.
Some of my favorite music stations are: The UK 1940s Radio Station, RFI Musique, FIP, Radio Bossa Nova, KBON, Espace Musique (various outlets), CBC Ambient Lounge, Kanal Jazz, Radio Swiss Jazz, WNMB, RadioNostalgia, Celtic Music Radio 1530, WNCW, Radio 6 and Fréquence 2 to name a few.
In terms of news and talk, I listen to: CBC Radio 1 (Toronto, Montreal, St. Johns, Charlottetown), WFAE, WCQS, Alaska Public Media, Vermont Public Radio, France Inter, Radio Canada, ABC Radio Australia, ABC Northern Tasmania, Radio New Zealand National, BBC World Service, 7RPH, Federal News Radio, ABC Radio Perth and many, many more.
I especially love finding some random, local radio station and eavesdropping on their community news!
I have well over 100 stations/favorites organized in various folders on my WiFi radios.
Honestly, this 2016 election season in the States has so heavily dominated domestic news, I've focused almost exclusively on stations outside of the US to seek a little refuge.
Of course, I'm also a heavy shortwave listener. While using a WiFi radio lacks the "fun factor" and skill of SWLing, it certainly serves up a world of diversity and is the perfect compliment to shortwave listening.
As I type this post this morning, for example, I've been listening to the CBC and France Inter on my WiFi radio (the audio actually emanates from my vintage Scott Marine SLR-M via an SStran AM transmitter). I've been muting the WiFi radio from time to time to listen to the ABC top of the hour news and music programming on Radio Australia with my Elecraft KX3 (above).
Now…back to Mark's question…
What do you, dear Post reader, listen to on your WiFi radio, mobile device or computer? Please comment!