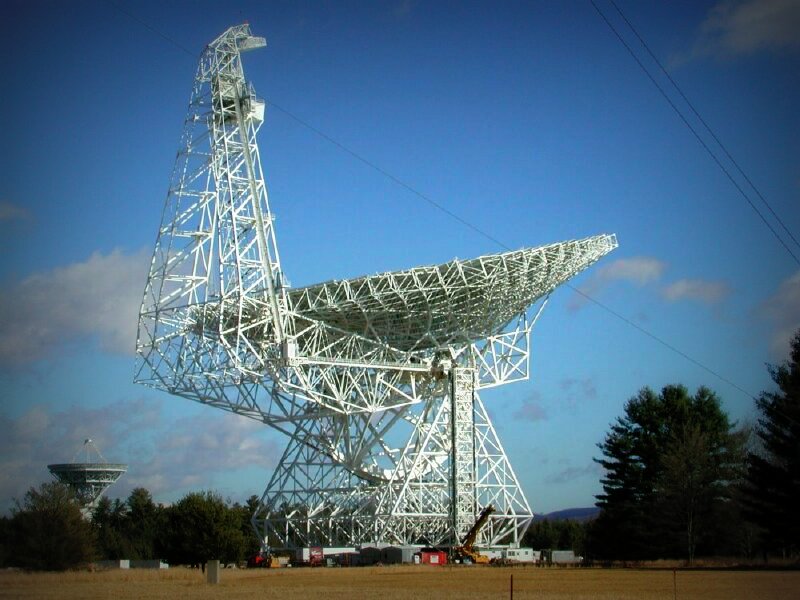 (Source: BBC News via Richard Langley)
Disturbing the peace: Can America's quietest town be saved?

There's a town in West Virginia where there are tight restrictions on mobile signal, wifi and other parts of what most of us know as simply: modern life. It means Green Bank is a place unlike anywhere else in the world. But that could be set to change.

"Do you ever sit awake at night and wonder, what if?" I asked.

Mike Holstine's eyes twinkled like the stars he had spent his life's work observing.

"The universe is so huge," he began.

"On the off chance we do get that hugely lucky signal, when we look in the right place, at the right frequency. When we get that… can you imagine what that's going to do to humankind?"

Holstine is business manager at the Green Bank Observatory, the centrepiece of which is the colossal Green Bank Telescope. On a foggy Tuesday morning, I'm standing in the middle of it, looking up, feeling small.

Though the GBT has many research tasks, the one everyone talks about is the search for extra-terrestrial intelligence. The GBT listens out for signs of communication or activity by species that are not from Earth.

[…]Green Bank sits at the heart of the National Radio Quiet Zone, a 13,000 square mile (33,669 sq km) area where certain types of transmissions are restricted so as not to create interference to the variety of instruments set up in the hills – as well as the Green Bank Observatory, there is also Sugar Grove, a US intelligence agency outpost.

For those in the immediate vicinity of the GBT, the rules are more strict. Your mobile phone is useless here, you will not get a TV signal and you can't have strong wi-fi? -?though they admit this is a losing battle. Modern life is winning, gradually. And newer wi-fi standards do not interfere with the same frequencies as before.[…]

Read the full article on the BBC News website.

Additionally, if you have access to the BBC iPlayer, click here to watch the Click episode featuring Green Bank.