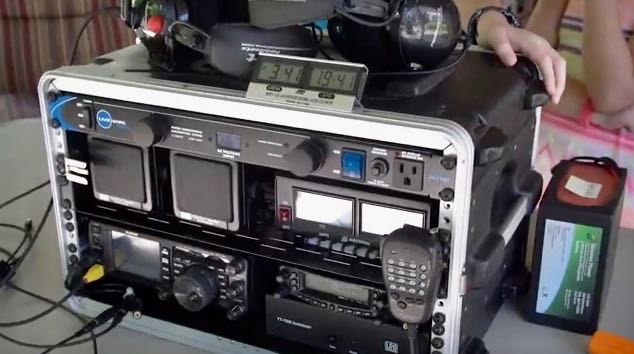 (Source: Southgate ARC)
Young radio amateurs Zechariah WX4TVJ, Faith Hannah AE4FH, Hope KM4IPF and Grace KM4TXT have released a video about their Go Box

Many people have asked us to make a detailed video about our Go Box, so we decided to make one. We show you what is in the Go Box and how we installed all of the equipment. There is also some funny stuff in the video, too!

The case we used was a Gator 6 rack unit shallow case:
https://www.bhphotovideo.com/c/product/252763-REG/Gator_Cases_GR_6S_GR6S_Shallow_Rack_Case.html

The shelves are simply vented rack mount shelves. Here is a link to where you can get them:
https://www.sweetwater.com/store/detail/RkShelfU1

Watch A Close Look at Our Ham Radio Go Box and How We Put it Together:
Click here to view on YouTube.
Lea Family
http://hamradio.world/
These girls do an amazing job with the video–bravo!
I love this setup. While I typically pack very lightly for portable radio work, building a system like this makes for very quick deployment when you require a full 100 watt system with multiple radios and multiple accessories. Radio clubs could easily put systems like this together for events like Field Day or Emergency Comms. It's grab-and-go at its best!
Of course, a field DXpedition/SWLing station could also be easily built into this portable system. In fact, I bet an SDR with computer, keyboard, and monitor could be mounted and accommodated in this space.