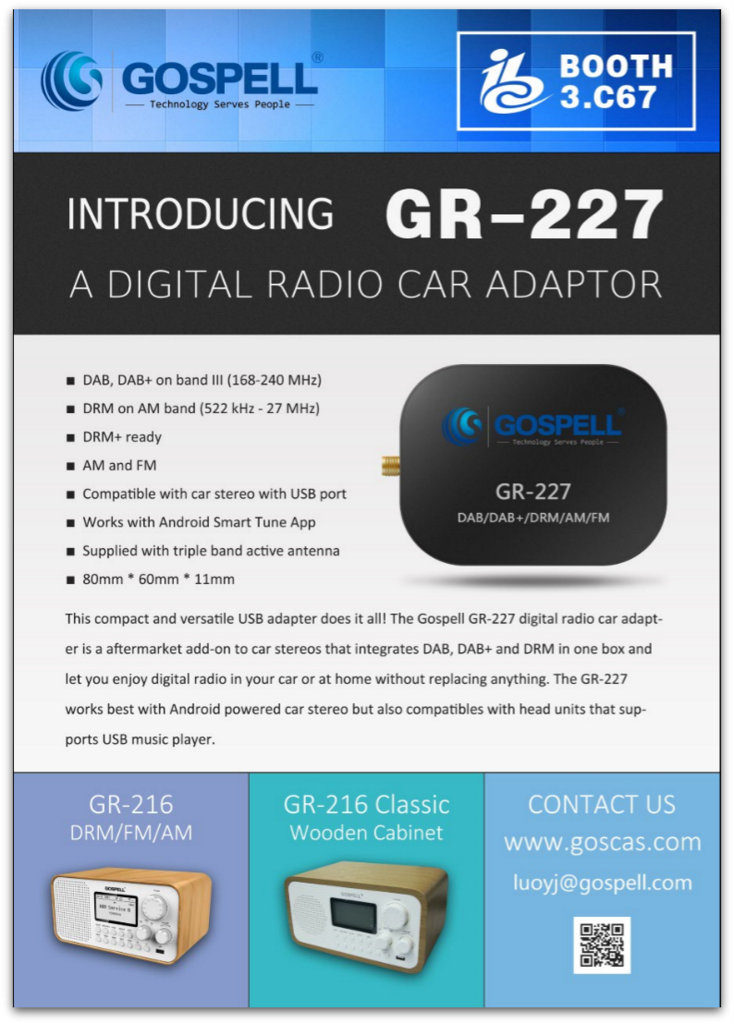 Many thanks to SWLing Post contributors Ed and Richard Langley for sharing information about the latest receiver from Gospell: the GR-227 digital radio car adaptor.
According to Radio World:
[…]The compact GR-227 can be added to car stereos, via a USB cable, in order to receive digital radio programs and corresponding data. Based on software-defined radio technology and using the xHE-AAC audio codec, the GR-227 is compatible with both modes of the Digital Radio Mondiale standard as well as the DAB/DAB+ digital radio standards.

According to Gospell, the GR-227 works with car stereos that are fitted with a USB port. Using the firm's patent-pending technology, the adaptor behaves like a thumb drive when plugged into a USB port, making it compatible with most in-car receivers.

In addition, the GR-227 also features the Gospell Smart Tune App for Android. When partnered with an Android-powered car stereo, this lets users play back the broadcast audio program or benefit from data services.[…]
Read the full article at Radio World.
Richard comments:
"They call it an adaptor but perhaps it's just an Android-controlled SDR receiver supplying audio output via a USB port, which could be connected to a computer or any other audio device with a USB audio input capability."
I think he may be correct in that assumption because it may be the only way to get cross-manufacturer compatibility in a device like this.
The product information sheet noted that the receiver is supplied with a "triple band active antenna." No doubt, the GR-227 will require adding a small external antenna to your car.
Still: an interesting product for sure! Perhaps the price point will be more reasonable that of previous DRM receivers? We'll post updates from Gospell with the tag: GR-227