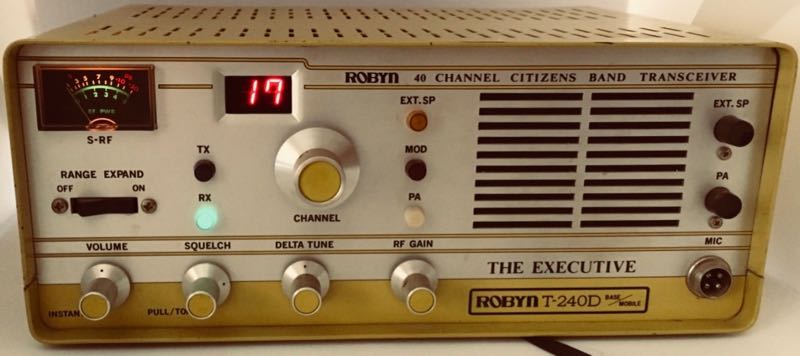 Many thanks to SWLing Post contributor, Ron, who reminds us that today is Class D CB radio's 60th anniversary. From Wikipedia:
On September 11, 1958 the Class D CB service was created on 27 MHz, and this band became what is popularly known today as "Citizens Band". There were only 23 channels at the time; the first 22 were taken from the former amateur radio service 11-meter band, and channel 23 was shared with radio-controlled devices. Some hobbyists continue to use the designation "11 meters" to refer to the Citizens Band and adjoining frequencies.
My dad was an avid CBer when I was a kid. He had an FCC-issued license and belonged to a healthy community of CBers in our part of the state. He had a beautiful yellow Robyn T-240D (same as pictured above) as a base station, and a mobile CB installed in every car. After the FCC dropped the licensing requirement, his activity on the bands slowed down although it did give me a chance to hop on.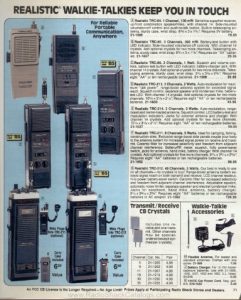 My best friend (who lived about 1/4 mile away) and I used to keep in constant contact with our 40 channel 5 watt CB walkie talkies. It was great fun.
Of course, it was a treat when I would catch some "skip" and make contact with someone two states away with that same walkie talkie.
Like it or hate it, a lot of radio enthusiasts and ham radio operators cut their teeth on CB radio.
I was certainly one of them.
CB radio is still a pretty dynamic public radio space today.  True, it's a bit of a free-for-all and if you can't tolerate profanity and "colorful metaphors" then you best stay away.
You don't need a CB radio in order to listen to the CB frequencies; most SDRs and many portable shortwave radios can tune in. If interested, check out this previous post: Listening to Citizens' Band (CB) radio on your shortwave receiver.
Post readers: Anyone still use CB radio today? Anyone else get their start in CB radio? Any stories you'd like to share? Please comment!