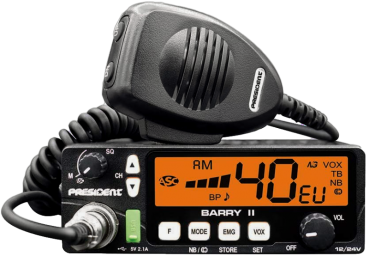 Many thanks to SWLing Post contributor, Peter Laws, who shares the following guest post:
---
Thomas – Still Famous
by Peter Laws
We're getting closer to the first legal FM CB on the market in the USA.  President Electronics  USA has announced that the President Thomas FCC CB radio will hit dealers in early 2022.
When first reporting on this, the assumption was that the Thomas FCC was going to be an FCC-spec Thomas ASC, a somewhat long in the tooth European multi-norm set.  As the release date has approached, and President has released marketing collateral, it's apparent that this new product is, in fact, a rebranded President Barry II, a current-production state-of-the-CB-art AM/FM European multi-norm model.
Richard, G0OJF, a pipe organ restoration and two-way radio expert from Lincolnshire, England, runs a wonderful YouTube channel "UK FM CB radio servicing", where he restores old UK-spec CBs and then tests them on air.  He also tunes up newly-released UK-spec CBs … and occasionally demonstrates restoration of 150-year-old pipe organs.  He recently covered the Barry II so if you are curious about the Thomas FCC you are strongly encouraged to watch his video about its European counterpart.
Your humble reporter, who, perhaps surprisingly, has not followed the CB radio market since, (checks notes), 1977 or so, was amazed to see that the MSRP will be $109.  In 1976 terms, that's just under 25 bucks and had CBs been that price then, your reporter would have bought three because he'd been saving his pennies and that was the amount he'd saved!
Undoubtedly, the reduction in cost is from using components that are readily assembled by robots.  If you watch G0OJF's video above, you'll note that the unit is almost completely made of surface-mount components.  Remarkable.
Watch for dealers to begin offering these in the next few weeks.  Your reporter plans to buy one and will be hanging out on Channel 31 FM once it's installed in his radio room.  Presumably, President (and other vendors) will be watching to see how these units sell in order to make plans for releasing other CBs that include FM.  An AM/FM/SSB CB would be quite versatile!
Let's play a game:  Spot the differences!
Full manuals for both versions are here:
President Thomas FCC operating manual