Many thanks to SWLing Post contributor, Nicolás Colla, who shares the following review:
---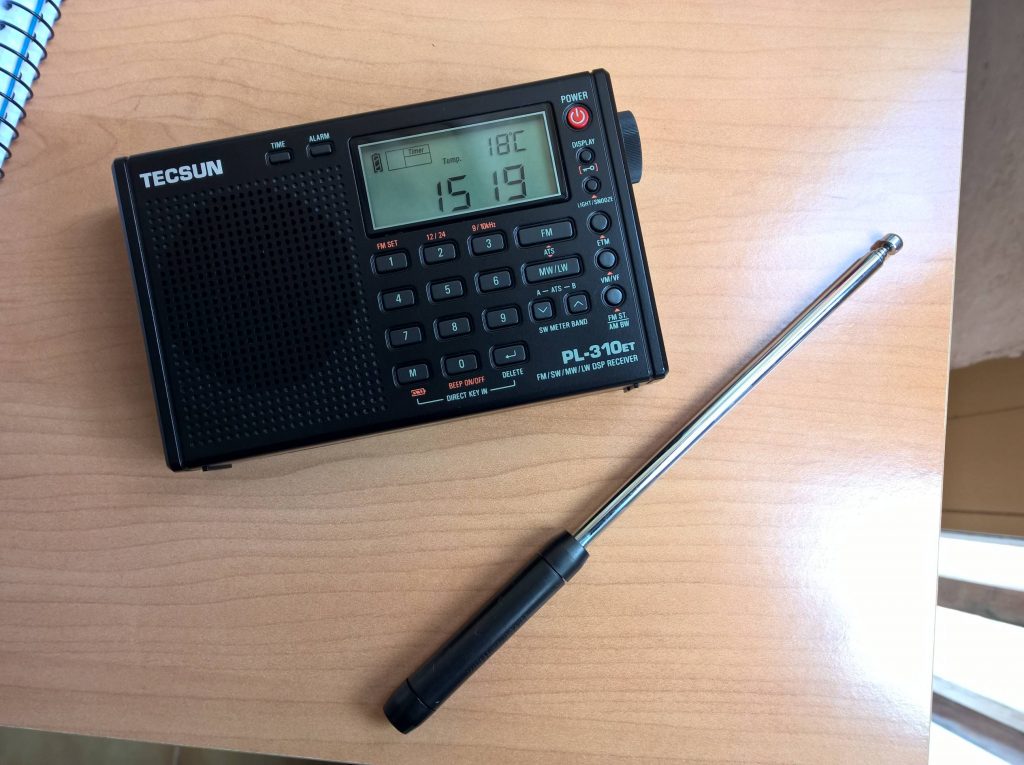 The Tecsun AN-07 is a whip antenna extender that is approximately 65 cm long. I bought mine from eBay seller Anon-co, and it arrived from Hong Kong in approximately twenty days.

The first thing I noticed with my new antenna is that it probably works only with Tecsun radios.

The antenna on my Degen DE-13 self-powered radio is too thin for the extension; the one on my Panasonic RF-3500 kitchen radio is too thick. I have another Tecsun antenna, the AN-05, which is a 6 m wire with a clip on the end that can be put on the radio's aerial. I hung the AN-05 indoors, in the place with the least amount of RFI (just next to a window), and decided to compare the performance of my Tecsun PL-310ET with the default whip, the longwire and my new extension, on shortwave and FM.

For that, I made a quick scan of the bands with the Easy Tuning Mode (ETM) function of this radio, between 1330 and 1355 UTC. The results were the following:

Shortwave

With the default aerial: 3 stations found.
With the AN-07 antenna extension: 9 stations found.
With the AN-05 longwire antenna: 23 stations found.

As you can see, the AN-05, which is 6 times longer than the AN-05 (the aerial's height is 1 meter with the added extension), gives by far the best results. Ironically, another scan with the AN-05 AND the AN-07 at the same time, with the clip adjusted on the extension, gives 29 different stations. I don't know why, but it works better!

FM

With the default aerial: 42 stations found.
With the AN-07 antenna extension: 57 stations found.
With the AN-05 longwire antenna: 35 stations found.

The AN-07 seems specifically designed for FM reception, and it really shines on this band. The signal of a local station increases approximately +12 dbµV on this set's signal meter.

In short, if you would like to get outstanding FM reception, or if you want to increase your shortwave signal quality JUST A BIT and don't want to mess with wires, the Tecsun AN-07 is ideal.
Click here to view the Tecsun AN-07 on eBay.
Thank you, Nicolás, for the quick review! As you say, that's impressive performance on FM especially. What I like about the AN-07 is that it's passive and requires no power supply or batteries.  It's also compact and easy to pack for travels. Many thanks for sharing your evaluation!
---
Do you enjoy the SWLing Post?
Please consider supporting us via Patreon or our Coffee Fund!
Your support makes articles like this one possible. Thank you!