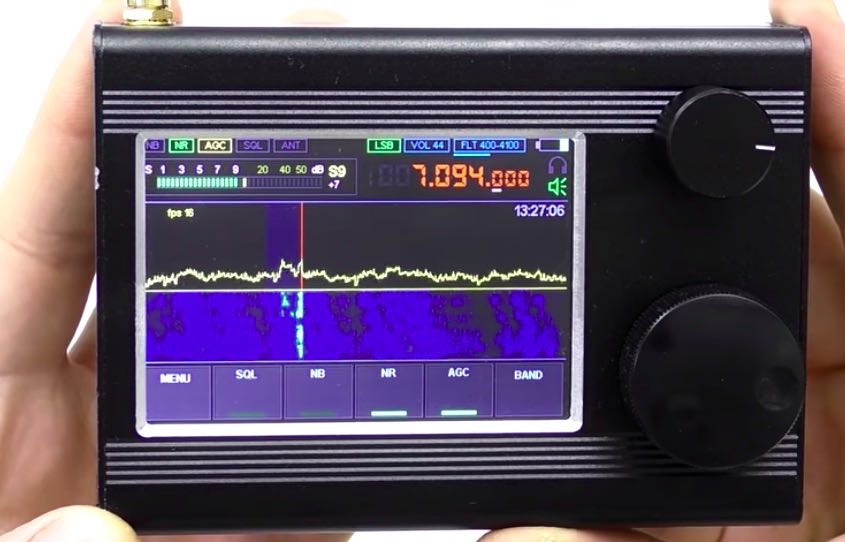 Many thanks to SWLing Post contributor, H. Garcia (PU3HAG), who writes:
Hey Thomas,

Some very exciting news on the topic of portable all-band receivers comes from Russia! A group of engineers have just released for ordering the new Malahit-dsp. And it's truly impressive! Picture an Icom IC-R8600 with the size of a Sony 7600G!

It seems it all started in June this year. Back then, RX9CIM George posted a note in QRZ.com forum about a new project he had been working of a standalone, SDR-based, all-band, all-mode receiver called Malahit-dsp.

Fast forward to November and it seems the project is finally complete as new posts started to bubble up in Youtube and in Russian forums. George is now taking orders of the Malahit DSP.

I can't read Russian, but with the help of Google Translator, we can find some interesting details:

The project authors are RX9CIM George, R6DAN Vladimir and R6DCY Vadim. It seems their goal was to design a low-cost portable SDR radio, using only easily obtainable components and to become the natural successor of the popular Degen and Tecsun radios.

Technical Specifications

1 MHz to 1000 MHz.
Bandwidth 160 kHz.
Modulation types AM, WFM, NFM, LSB, USB.
Powered by one Li-ion cell.
Consumption up to 300 mA
Main chip ARM STM32H743VIT6 MCU High-performance and DSP with DP-FPU, ARM Cortex-M7 MCU with 2MBytes Flash, 1MB RAM, 400 MHz CPU
Printed circuit board is used four-layer, factory-made; for purchase, refer to RX9CIM. [email protected]

PCB only: ~ USD 17.22
Finished receiver delivered inside Russia: USD 195.65

From the forum, there is also this important note: "Attention! Fraud/Scammers detected! You can purchase components or finished devices from George only "

It seems the project is open source, the schematic, PCB and software are available to download.

I really hope this receivers becomes popular and available world wide. I also hope this new project "shakes" a bit the industry of shortwave receivers. Since the Degen 1102/03, Tecsun 450/600, Tecsun PL310/880, we have been seeing only iterations of the same designs.

Pages

Group dedicated to Malahitdsp
https://vk.com/malahitdsp

Recent discussion on Malahit, annoucement of ordering is now available, pictures and videos
http://hamforum.ru/viewtopic.php?t=193

Videos

Video 1: Shows the soldering of large components (encoders, speaker, SMA jack) on the radio board and installing it into the metal enclosure. Next a demo of receiver working. Prepared by Sergeyenkov Alexander:
Video 2: It shows a bit of the manufacturing process and demonstrates how one can build the receiver at home using kit pre-made board and components acquired in AliExpress. Also includes a test of the receiver barebones. Prepared by R2AJI Vladimir on his YT channel "HAM Radio Channel"
Wow!  Thank you so much for sharing this!  The Malahit-DSP looks like a fantastic little receiver–I especially love the fact that it has a backlit color touch screen with both a responsive spectrum and waterfall display. It also looks and sounds like the built-in speaker is of decent quality and the audio amplification is more than adequate.
I'll see if I can get one to evaluate. Thanks again for the tip!