Today, the ARRL released their new electronic magazine for ham radio newcomers: On The Air.
The ARRL describes On The Air's mission:
"On the Air magazine is the newest ARRL member benefit to help new licensees and beginner-to-intermediate radio communicators navigate the world of amateur radio. Delivered six times a year, the magazine will present articles, how-to's, and tips for selecting equipment, building projects, getting involved in emergency communication as well as spotlighting the experiences of people using radio to serve their communities, and those using it for enjoyment."
I checked out On The Air and was quite pleased with the scope of the magazine. The first issue covers topics such as: understanding the ionosphere, choosing your first radio, building simple antennas, and much more. I love the fact that the articles are written with newcomers in mind, too; less technical jargon and more explanations.
I mentioned in a previous post that I've been teaching a ham radio class to a group of high school students. Most of the students have now acquired their Technician licenses, and we're even plotting a General class course for the fall.
Last month, I shared some copies of QST (the ARRL monthly member magazine) with my students. While they enjoyed looking through the pages of QST, many told me they simply didn't understand the articles yet…There's just not a lot inside a QST issue to grab the attention of a fifteen or sixteen year old who's just gotten her ticket. Understandable.
Then, I learned about On The Air from a friend with the ARRL.  I was so glad to hear that the League was finally making a bi-monthly magazine aimed squarely at newcomers! I was also pleased it was an e-publication, because it will be that much easier to share with my class and propagate to prospective students.
But today, I discovered, to my dismay, that other than the premier issue, On The Air is for ARRL members only. Here's a screen grab from the website: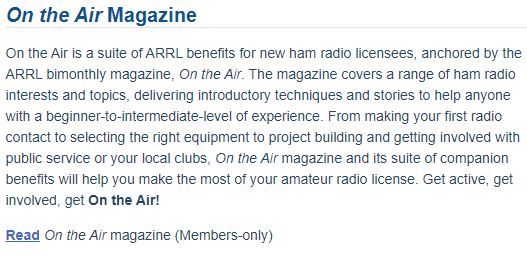 But…"for members only"––?
Alas, in limiting access, the ARRL has essentially insured that most of their target audience won't ever have the opportunity to read On The Air, and thus they've crippled the best ARRL recruitment tool I've ever seen. 
What a shame.
I've contacted my ARRL representative and asked that they reconsider the decision to hide this brilliant magazine behind a membership paywall. I'm pretty sure that ad revenue and membership fees could readily cover the cost of publishing this electronic edition. After all, On The Air could lead to a lot more ARRL members! And, indeed, I hope it will.
If you feel as I do, please contact your ARRL Section manager. It may be that those making the decisions are, in this case, a little out of touch with the future of amateur radio.
Update – To be clear about this post: I'm not implying anything bad about the ARRL here, I just think it's a lost opportunity if they keep future editions of On The Air behind the member pay wall. I imagine that ad revenue alone could more than support this niche publication if they simply release it as a free PDF. The real benefit, though, could be an increase in ARRL membership as On The Air readers get a taste of what the League could offer! In other words: this is an opportunity!
What do you think? Should On The Air be free to anyone interested in amateur radio, or for members only? Please comment!