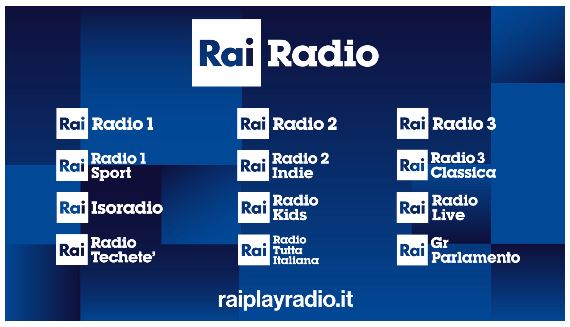 Many thanks to an SWLing Post contributor in Italy who notes that Friday, March 16, 2020 at 11:00 local, (10:00 UTC)  RAI will broadcast a special program across their entire network. The transmission will start with the Italian national anthem.
The announcement below was translated by Google in English. You can find the original announcement in Italian on this page.
ROME, 16/03/2020 – United for Italy. It is the meaning of the operation that all radios are organizing for Friday 20 March at 11.00 am. Rai Radio, together with all the other Italian radios, will broadcast the anthem of Mameli and three songs of the national musical heritage. Almost one hundred years after the first radio program of 6 October 1924, for the first time ever in the history of our country, all Italian and national radio stations will unite for an unprecedented common broadcasting initiative. All the radios of the group will be for Rai Radio: Rai Radio 1, Rai Radio 2, Rai Radio 3, Rai Isoradio, thanks to the availability of the directors Luca Mazzà, Paola Marchesini, Marino Sinibaldi and Danilo Scarrone. In addition, the following will also join the initiative: Gr Parlamento, Rai Radio 1 Sport, Rai Radio 2 Indie, Rai Radio 3 Classica,

"Participating in this initiative is a duty but also a clear testimony of our role as a public service – comments Roberto Sergio, director of Rai Radio -. Rai Radio strongly wants to make Italy's voice heard, fighting this battle and supporting all Italians. The directors of the four main channels immediately joined the proposal, and as a group I am proud to be able to start the operation. In these days, Rai Radio colleagues are doing a commendable job, almost all in smart working from home, others in the studios, all with great enthusiasm and a sense of belonging. At a time like this I feel all my colleagues proactive and ready to do. Proposals for new programs are coming, some are starting. A true testimony of unity by all channels, generalists and specialists ".
Click here to view the announcement and listen to this special broadcast.