If we weren't all in the midst of a global pandemic, today I would be at the first day of the 2020 Hamvenion in Xenia, OH.
Since I would not be hosting a table for ETOW this year, I was going to Hamvention for the first time on Press credentials. While I absolutely loved hosting the ETOW table with my friends and fellow volunteers, I was certainly looking forward to being a bit of a free agent this year and visiting vendors and friends with no time pressures. This would have also given me much more time to do live postings.
For me, Hamvention is first and foremost an excuse to hang with good friends I only typically see once a year. Between Hamvention and several other associated events like the QRPARCI's Four Days In May, I connect with hundreds of people. It can be a bit daunting–even draining to this "socially adept" introvert–but I still love it and look forward to it every year.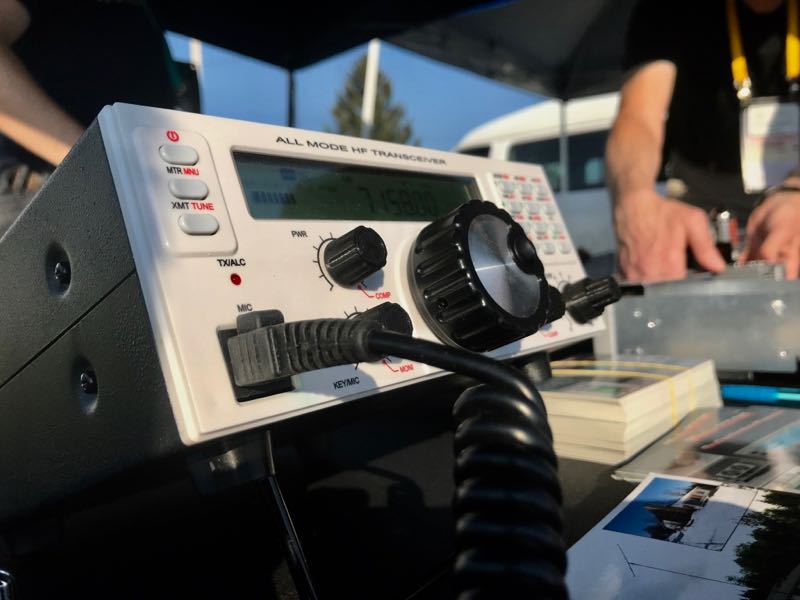 One of my favorite things to do at Hamvention is to see what new innovations individuals and companies have introduced. As I've mentioned before, I love the "mom-and-pop" innovators in our radio community and Hamvention is certainly one of those places where they showcase their goods.
Of course, I love the Hamvention flea market–easily one of the largest outdoor hamfest flea markets in the world. Although I have found some outstanding deals at the Hamvention flea market in the past–like my BC-348-Q ($40) and Panasonic RF-2200 ($70)–I'm more likely to find that obscure rig or accessory I've been looking for rather than a proper bargain.
This year, I would have kept my eye out for a Kenwood TR-9000 or TR-9130 VHF transceiver.
I've seen the TR-9000 and TR-9130 at past Hamvention flea markets–a near ideal place to locate vintage transceivers like these. (On that note, contact me if you have one you'd like to sell!) 🙂
I would have also been on the lookout for classic shortwave portables, of course, and accessories like enclosures, antennas, Powerpole connectors, coax, ladder line, and wire. Many of these I would only buy new.
2020 might not have been a great flea market year anyway. The weather forecast calls for quite a bit of rain and possibly thunder storms over the weekend. Likely, the flea market grounds would have been a bit wet and muddy thus less vendors would have shown up.
See you next year!
Calling off Hamvention made sense this year. Even if state restrictions would have allowed for a gathering of 30,000 people, I imagine turnout would have been anemic at best. The typical Hamvention attendee also happens to be the target demographic of the Coronavirus. Many would have not wanted to take the risk. I doubt there would have much of any international attendees or vendors there either.
You can bet I'll be at Hamvention next year and you can bet I've already started my shopping list! If the pandemic is no longer an issue, I willing to bet Hamvention might have a record year in 2021. I look forward to finding out in person!
Post readers: Had anyone else planned to attend Hamvention this year?