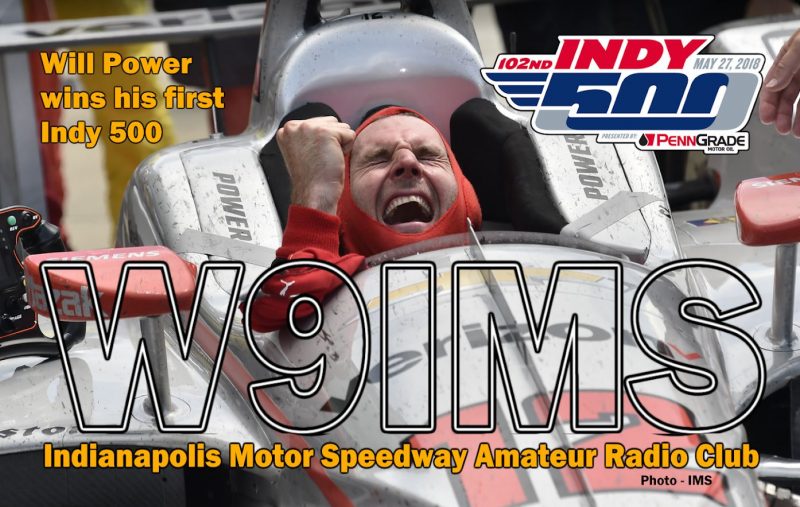 Many thanks to SWLing Post contributor, Brian D. Smith (W9IND), who shares the following announcement:
---
W9IMS: A delayed start for the Indianapolis Motor Speedway special event station
by Brian D. Smith, W9IND
It's a late start for auto racing at the Indianapolis Motor Speedway, as well as the amateur radio station that honors this century-old tradition … but the show must go on!
And this week it will, as special event station W9IMS returns to the airwaves from now through Sunday to offer radio hobbyists a fresh opportunity to collect more "wallpaper": Two vivid racing-themed QSL cards and the popular certificate known as the Checkered Flag Award.
The 2020 certificate will be easier than ever to earn. Normally the Speedway's three major races take place on three different weekends, but this year, because of Covid-19 concerns, they'll be consolidated into two. Accordingly, hams and SWLs will be required to contact or tune in W9IMS during only two race weeks – the current one, which continues through Sunday, July 5; and Aug. 17-23, which ends on the day of the venerable Indianapolis 500.
Even if you succeed in snaring W9IMS only once, you can still send off for the corresponding QSL card. All certificate and QSL designs are new each year.
The coming Independence Day weekend will feature an unprecedented racing doubleheader, with the IndyCar Grand Prix and the NASCAR Brickyard 400 slated for Saturday and Sunday, respectively. Consequently, the first W9IMS QSL of 2020 will be a full-color, four-sided card portraying images from both races.
So where do you find W9IMS? The station will stick to three bands, 20, 40 and 80 meters, and may appear at any time of day or night from now through Sunday.
However, the best bet is to catch the station during prime time – 2200 through 0200 UTC on weeknights (6 to 10 p.m. Indy time). W9IMS operators also plan to activate 20 meters during daytime hours, often between 8 a.m. and 2 p.m. (1200-1800 UTC); and will cover the various bands all weekend starting at 10 a.m. (1400 UTC) daily.
If you still haven't caught W9IMS by the time Sunday evening arrives in Indianapolis, operators commonly conduct their own happy hour – working stations in rapid contesting style – right up to midnight (0400 UTC Monday).
Here are a couple of hints for tracking down the station during special event weeks:
Go to the W9IMS web page (www.w9ims.org), find the "2020 Operating Schedule" heading, and click on the link to "Grand Prix & Brickyard" or "Indianapolis 500." Although some W9IMS operators get on the air at unscheduled times, you'll have your best luck looking for the station during the hours and bands reserved with a name and a callsign.
Check DX Summit (www.dxsummit.fi) for spots that identify the current frequency (or frequencies) of W9IMS, if any. And if you type "W9IMS" in the search box, you can customize it to show reports for only that station.
For additional details, consult the W9IMS web page. Feel free to submit both of your 2020 QSL card and certificate requests in the same envelope, and if you don't have your own QSL card, a printout of your W9IMS contacts or reception reports will suffice.