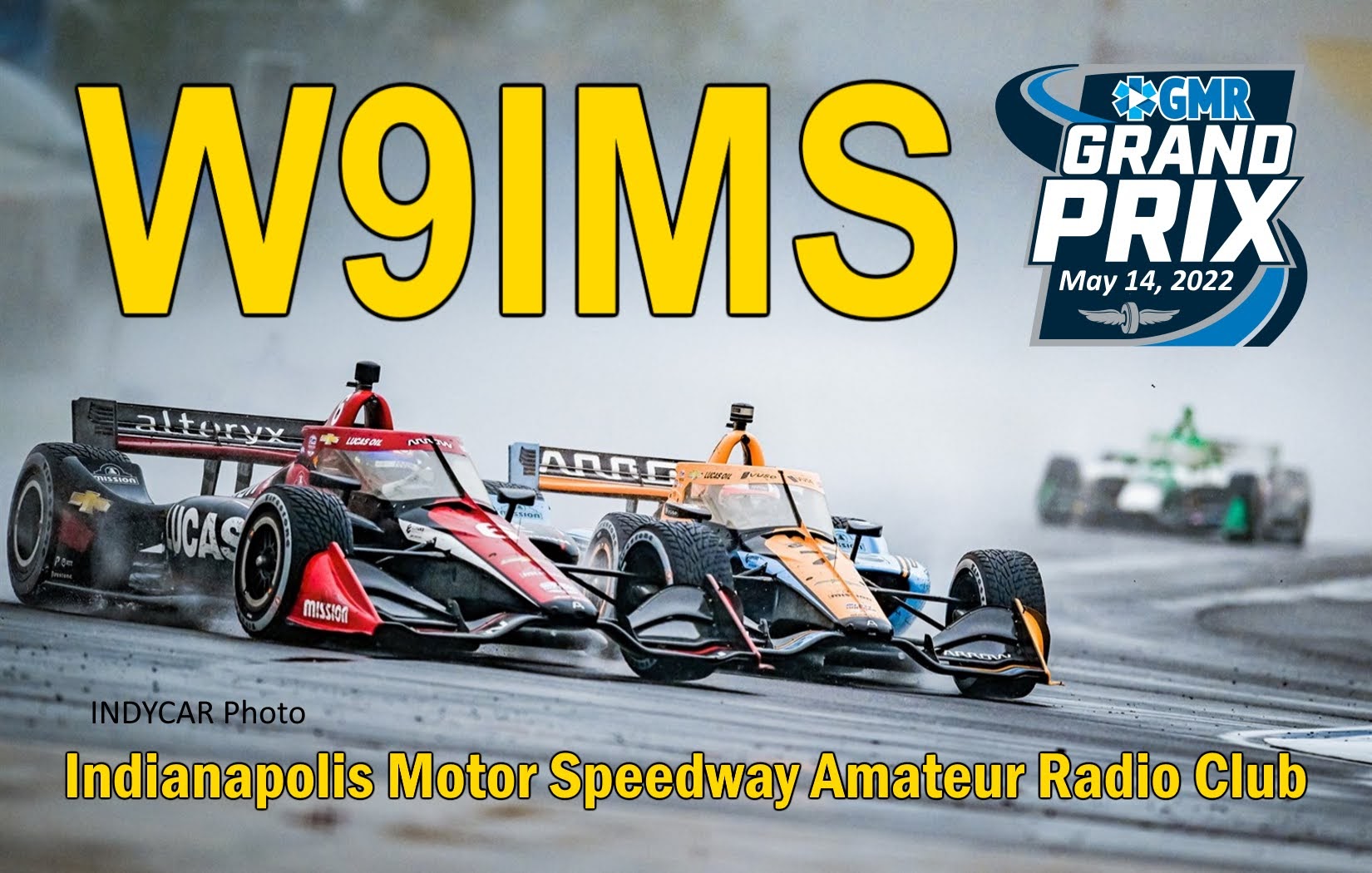 W9IMS Accelerates into Another Special Event Season – with a Chance for an Indy Racing Certificate 
By Brian D. Smith
It's back to the track for collectors of W9IMS cards and certificates.
The first of this year's three special events tied to the major races at the Indianapolis Motor Speedway will begin at midnight Eastern Time (0400 UTC) this Sunday, May 7, and continue through 11:59 p.m. (0359 UTC) the following Saturday, May 13.
And for hams and SWLs, your chance for a 2023 Checkered Flag Award begins – and could end – with it. To earn the certificate, you'll need to contact or tune in W9IMS during all three special events this year: the Grand Prix, the Indianapolis 500 (May 22-28) and the NASCAR 200 at the Brickyard (August 7-13).
Catch W9IMS during Grand Prix week and you're one-third of the way to Victory Lane. Miss it and you'll have to wait till 2024 for another shot at the certificate.
So when and where do you find W9IMS? Any time of the day or night is possible, but prime time is from 6 to 10 p.m. (2200-0200 UTC) weekdays, and the prime bands are 40 and 20 meters (generally around 7.245 and 14.245 MHz). And this year, improved solar conditions could prompt a rare move to 15 and 10 meters, likely around 21.350 or 28.340 MHz.
The choice of frequencies will be gametime decisions based on a variety of factors, including QRM, band openings and the number of calling stations. So your surest move is to check W9IMS spots, which are frequently posted on DX Summit (www.dxsummit.fi).
While some on-air times are unscheduled, you can also increase your odds by going to the W9IMS QRZ page (www.w9ims.com) and clicking the Grand Prix link under the heading "2023 Operating Schedule" – which displays the shifts that operators have already signed up for.
If time is running short, listen for happy hour – the last blast on Race Day (May 13 for the Grand Prix), usually starting at 11 p.m. Indy time (0300 UTC). That's when W9IMS ops traditionally switch to contest-style QSOs and exchange only signal reports so they can work as many stations as possible. But remember that W9IMS special events can end early if the station encounters sparse QSOs or adverse solar or weather conditions.
Should you manage to bag W9IMS, don't celebrate for too long: The Indianapolis 500 special event begins on May 22, only 9 days after the end of Grand Prix week. Then comes the longer wait till the NASCAR race in August.
You'll qualify for a new and unique QSL card for each W9IMS event you log, regardless of whether you snare all three in '23. But why not complete the set and nab the certificate – starting with the first race this coming week?
Hams and SWLs alike are eligible for any and all W9IMS cards and certificates; you can even QSL via the bureau. And if you forgot to send in your information from a previous year, it's still possible to obtain nearly all of the previous cards and certificates. Consult the W9IMS QRZ page for full details.