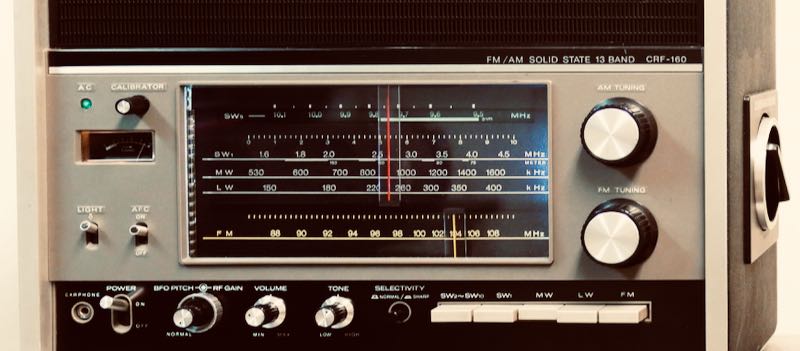 Radio Waves:  Stories Making Waves in the World of Radio
Because I keep my ear to the waves, as well as receive many tips from others who do the same, I find myself privy to radio-related stories that might interest SWLing Post readers.  To that end: Welcome to the SWLing Post's Radio Waves, a collection of links to interesting stories making waves in the world of radio. Enjoy!
Many thanks to SWLing Post contributors Steve Lord, Michael Guerin, and the Southgate ARC for the following tips:
---
The world of Shortwave is a world of state-backed propaganda, cults, pirates, and spies. You'll find every form of freakery and geekery on air. Digital, analogue, even stuff where you can't tell if it's digital, analogue, bad music or interference.

[…]In a world of constant connections Shortwave radio may seem anachronistic. But there's something special in Shortwave and I'd like to show it to you. With a tiny bit of effort and at zero cost you can explore this world from the comfort of your own home.

How Shortwave Shaped Lives

Of all the things I expected to get into, Shortwave radio wasn't one of them. As a kid I'd listen to my dad's old valve radio. Strange voices from distant lands floated through the air. Shortwave's audio quality was terrible even by early 80s standards. There was something magical in hearing distant voices from across Europe and beyond.

I got back into Shortwave listening earlier in the UK lockdown period. Over the past few months I've heard stations from as far as Florida, Cuba, Botswana, North Korea and China. I've heard signals broadcast from Ascension island in the Atlantic to Tinian island in the Pacific.

Some people will tell you that Shortwave is dead. While it's passed a 20th century peak there's plenty happening. In 2002 the National Association of Shortwave Broadcasters estimated that hundreds of millions of households around the world had Shortwave-capable receivers.[…]
Six senior Trump administration officials filed a whistleblower complaint with the State Department's inspector general over allegations that Michael Pack, CEO of the U.S. Agency for Global Media (USAGM), violated federal law and abused his authority, according to a copy of the complaint reported by Politico on Wednesday.

The 32-page complaint includes allegations from six members of the Senior Executive Services at the USAGM accusing Pack, who was confirmed as head of the agency which oversees the state-run network Voice of America in June, of engaging in conduct that "constitutes an abuse of authority and gross mismanagement."

The six officials who filed the complaint were all placed on administrative leave Aug. 12.

The complaint alleges Pack, who was appointed by Trump, wanted to force out the complainants because they were part of the "Deep State" and had "played a role in the delay" of Pack's confirmation to his position at the USAGM.

The complaint alleges Pack ordered a close aide to conduct research on the voting history of agency employees, including one of the complainants, Matthew Walsh, the deputy director for operations who was placed on administrative leave. The research "was to be utilized in evaluation of career civil servants' abilities to carry out the duties of their positions," the complaint states.[…]
Once you move away from the usual software defined radio (SDR) dongles, you have only a few choices unless you want to drop some serious cash. One common hobby-grade SDR is the KiwiSDR. This popular unit runs Linux and can receive up to 30 MHz. The platform uses a dedicated A/D converter, an FPGA, and BeagleBone computer. Success of course breeds imitators, and especially when you have an open source design like the Kiwi, you are going to find similar devices with possibly different end goals. That's how the RaspberrySDR came to be. This is a very similar unit to the KiwiSDR but it uses a Raspberry Pi, along with a handful of other differences. What's different? [KA7OEI] tells us in a recent blog post.

Other than the obvious difference of the computer and all that it entails, the RaspberrySDR has a higher speed A/D (125 MHz vs 66 MHz) and 16-bits of resolution instead of the Kiwi's 14 bits. This combines to give the Raspberry a wider receive range (up to 60 MHz) and — in theory — better performance in terms of dynamic range and distortion.

[KA7OEI] measures a few key parameters on both devices and arrived at some surprising conclusions. The Kiwi appears to boost signals near its cutoff frequency to compensate for losses in the system. The Raspberry — using adapted software — looks as though it does the same trick, but does it around the Kiwi's cutoff frequency, which is lower. Probably a software fix could take care of that, of course.

There are also tests of image rejection and front-end overloading. The tests revealed a few problems with signal strength measurement and some other problems with the RaspberrySDR. The biggest issue, though, was that the 16-bit A/D didn't seem to have better performance. Without proper design, throwing more bits at a problem isn't always helpful and this appears to be a good example of that.

In the end, the Raspberry looks like a cheap clone of the Kiwi with some benefits, but also some drawbacks. The blog post also covers some open source issues where Kiwi is now saying some parts of their code will only be binary in the future and there has been some difficulty finding all of the Raspberry's files. If you are looking to buy one, you might not find the name "raspberrysdr" but [KA7OEI] suggests searching for "New 16bit 62M real-time bandwidth network shared SDR receiver" which does turn up some results.

Of course, you can always use a Pi with a more conventional dongle, and that works well enough. If you want to make a Pi just transmit, you can do that with little more than a wire, although the quality might not be perfect.

https://hackaday.com/2020/09/30/kiwisdr-vs-raspberrysdr-a-tale-of-two-sdrs/
The final rules for the FMH Portable Operations Challenge are now posted on the POC webpage at foxmikehotel.com/challenge/. N1MM+ users, need to select FMHPOC as the contest and VKContest Logger users just POC.

The organisers wish all other contests taking place this weekend success and lots of fun – the bands will be busy again and we're hoping propagation plays along.

We hope many amateurs give this new-style contest a go whether from a home QTH station or out portable.

Ed DD5LP
---
Do you enjoy the SWLing Post?
Please consider supporting us via Patreon or our Coffee Fund!
Your support makes articles like this one possible. Thank you!