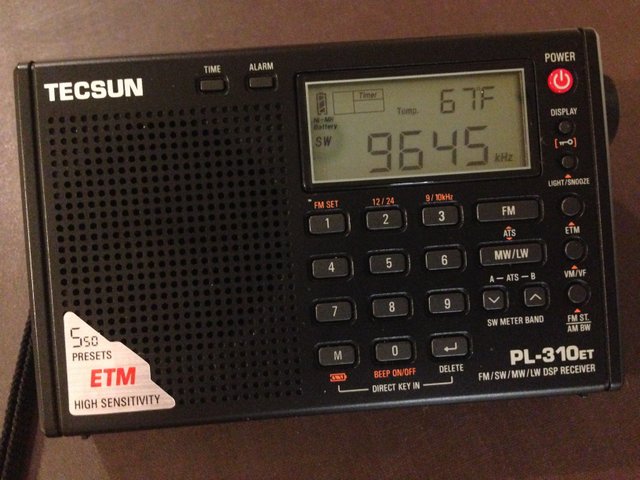 Radio Waves:  Stories Making Waves in the World of Radio
Because I keep my ear to the waves, as well as receive many tips from others who do the same, I find myself privy to radio-related stories that might interest SWLing Post readers.  To that end: Welcome to the SWLing Post's Radio Waves, a collection of links to interesting stories making waves in the world of radio. Enjoy!
Many thanks to SWLing Post contributors Troy Riedel, Dan Robinson, and the Southgate ARC for the following tips:
---
IRVINE, Calif.–(BUSINESS WIRE)–Jul. 26, 2021– Skyworks Solutions, Inc. (Nasdaq: SWKS), an innovator of high-performance analog semiconductors connecting people, places and things, today announced that it has completed its acquisition of the Infrastructure & Automotive business of Silicon Laboratories Inc. (Nasdaq: SLAB) in an all-cash asset transaction valued at $2.75 billion.
"On behalf of the entire Skyworks organization, I want to welcome the Infrastructure & Automotive team," said Liam K. Griffin, chairman, chief executive officer and president of Skyworks. "In addition to a strong legacy of innovation and execution, the I&A business brings a highly diversified customer base that will enable our continued expansion into strategic end markets. Together, we will accelerate profitable growth in key industry segments, including electric and hybrid vehicles, industrial and motor control, power supply, 5G wireless infrastructure, optical data communications and data center."
About Skyworks
Skyworks Solutions, Inc. is empowering the wireless networking revolution. Our highly innovative analog semiconductors are connecting people, places and things spanning a number of new and previously unimagined applications within the aerospace, automotive, broadband, cellular infrastructure, connected home, entertainment and gaming, industrial, medical, military, smartphone, tablet and wearable markets.
Skyworks is a global company with engineering, marketing, operations, sales and support facilities located throughout Asia, Europe and North America and is a member of the S&P 500® and Nasdaq-100® market indices (Nasdaq: SWKS). For more information, please visit Skyworks' website at: WWW.SKYWORKSINC.COM.
[…]View source version on BUSINESSWIRE.COM: HTTPS://WWW.BUSINESSWIRE.COM/NEWS/HOME/20210726005252/EN/
DRM Consortium responded to an article by James Careless in a recent edition in Radio World on the current status of shortwave broadcasting – Shortwave Radios Keep Up With Tech – Radio World. DRM Response – DRM a Real Presence on Shortwave
Letter: DRM Is a Real Presence on Shortwave
And don't overlook the huge audiences that still are served by shortwave
BY RUXANDRA OBREJA
PUBLISHED: SEPTEMBER 22, 2021
The author is chairman of the Digital Radio Mondiale Consortium.
It was very interesting to read the article researched and penned by James Careless "Shortwave Radios Keep Up With Tech" in Radio World.
It was also high time to address the issue of SW transmissions, just when the death of radio and of shortwave, and even medium-wave, is being ventilated again, while the progress of streaming and podcasting is hugely hyped, again trumping global realities.
Maybe stressing the actual huge size of SW listening would have benefitted the article.
BBC World Service alone has an estimated weekly audience of 269 million, with radio delivering around 150 million. This top international broadcaster has 200 transmitter sites, of which four are high-power AM, with 12 others hired. Content is distributed to 800 locations globally (often using SW) for direct broadcast or inclusion in partner broadcasts. And AM services reach many tens of millions across Africa and Middle East, the future potential audience of DRM shortwave as well.
The Radio World piece was clearly aimed mainly at the enthusiasts, as indicated by the receiver prices mentioned. The average non-enthusiast listener who has a laptop with connectivity would probably just listen to radio via the internet.
There is definitely merit in portable SDRs, which (depending on price) will likely keep some of the audiences and make it easy for them to pick up analog shortwave but also DRM. India, China, Russia, U.K., even Brazil, Pakistan and other countries are testing, broadcasting or seriously considering shortwave DRM at the moment. [Continue reading…]
For years now, Nigerians have asked for the location of 'Radio Biafra', a network of internet-based amateur radio stations broadcasting the agenda of the Indigenous People of Biafra, IPOB.
Yesterday, the Cable News Network, CNN, discovered a tucked away down a quiet, leafy street in Peckham, southeast London, the registered address of the group.
CNN described the place as a suburban spot, saying that it is the unlikely location of Radio Biafra.
Mazi Nnamdi Kanu founded IPOB in 2012 and established Radio Biafra in 2009. The group was created to restore an independent state of Biafra.
Radio Biafra was also created to disseminate, enlighten, educate, inform and criticise the activities of the Nigerian government by Kanu.
IPOB was banned by the Federal government in 2017. However, in October 19, 2015, Kanu was arrested for treasonable felony, sedition, and ethnic incitement. He was released on bail in 2017 and fled to the UK. [Continue reading…]
The next free amateur radio Foundation Online training course run by volunteers from Essex Ham starts on October 3 – Register Now
The RSGB's introduction of online exams that can be taken at home has led to a surge in demand for free online amateur radio training courses such as that run by Essex Ham.
You can find out more about online training and register to join a course at
https://www.essexham.co.uk/train/foundation-online/
Essex Ham
https://www.essexham.co.uk/
https://twitter.com/EssexHam
---
Do you enjoy the SWLing Post?
Please consider supporting us via Patreon or our Coffee Fund!
Your support makes articles like this one possible. Thank you!