Many thanks to SWLing Post contributor, Dan Robinson, who publishes the following guest post:
---
Letter to Eton:  Cutting Corners on Elite Satellit Won't Succeed
by Dan Robinson
As SWLing.com readers will recall, weeks before Eton shipped the first group of Elite Satellit receivers I published a commentary that asked a key question:  would Eton be able to meet the higher standards of the listening community in 2022 when it comes to new advanced portables?
Unfortunately, we all see what the answer to that question was.  Eton was forced to recall Elite Satellit radios that had been shipped to major resellers such as Universal Radio, Ham Radio Outlet, and others as defects became all too apparent.
A radio that had been on its way to me for review was among those recalled.  But I recently was able to examine a unit that a friend in the Washington, DC area purchased.  What I found I am putting in this commentary as a letter to Eton.
If the company takes these points seriously, I think there is still hope that the Elite Satellit can join the ranks of respectable multi-band portables – after Eton has gone back to the drawing board so to speak.  However, if Eton continues to cut corners with this receiver, its future is not bright:
Letter to Eton on the Elite Satellit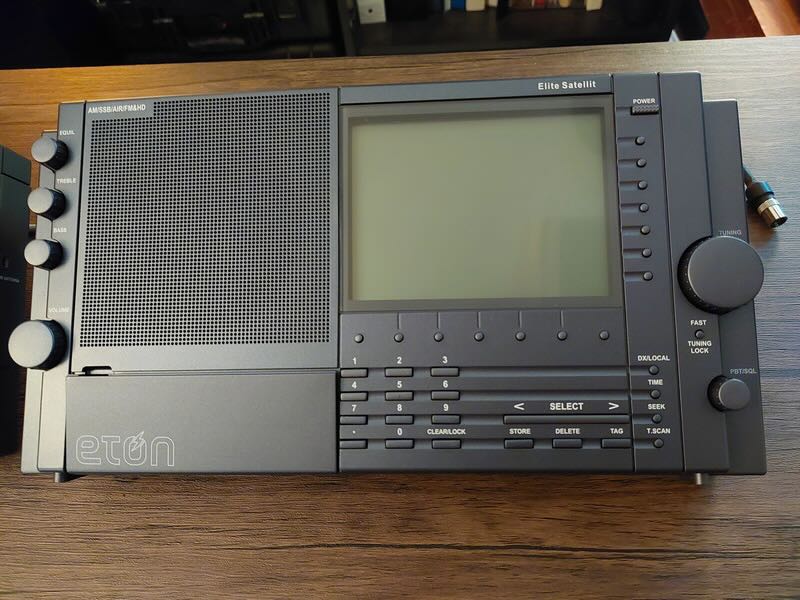 Dear Eton,
MUTING WHILE TUNING
As many who purchased or tested the Elite Satellit have remarked, the fact that you decided to release a radio with this issue is beyond comprehension.  Tuning on the Elite Satellit is, tragically, an uncomfortable and frustrating experience.  This needs to be corrected/fixed – you only need to take a look at Tecsun receivers such as the H-501 or PL-990x to know what needs to be done.
POORLY-IMPLEMENTED PASSBAND TUNING
Perhaps even more puzzling than muting, the Elite Satellit I tested had an even more mind-boggling issue.  Passband tuning should function to adjust the signal pitch without changing the audio frequency.  On the radio I tested, PBT was actually TUNING and changing the frequency.  Using PBT on this radio was virtually no different from tuning in SSB, with injected tones heard, until a zero beat was achieved.  All you had to do was take a look at a E1 receiver, or any other receiver with well-implemented PBT to understand how real PBT is supposed to function.
As a colleague remarked, the Elite Satellit "seems to be functioning as a BFO."  Obviously, a BFO is not PBT.  Moreover, there's not really any need for a BFO on a receiver that has USB & LSB modes plus 10 Hz tuning."  On top of that, why does PBT work only in SSB and non-synchronous AM?  On the E1, PBT is full service, including on non-SYNC AM.  All of this needs to be corrected. If the problem involves DSP chip issues, then Eton has a lot of work to do to find a solution.
LOCKUP ON FM/HD
As others have noted, the receiver locked up when tuning FM/HD signals, requiring a hard reset of the radio.  I could not even tell what HD sub-channels existed on certain frequencies.  This needs to be corrected.
TERRIBLE AGC
Again, you had the example of the E1 – but instead of taking a superb feature on that older receiver which provided the user with AUTO, SLOW, and FAST modes, designers of the Elite Satellit provided only ON or OFF.  As well, on the radio I tested AGC response was terrible, with a long delay before audio returned to listenable level.  But even if one turns AGC off, is there any way to control RF manually?  It appears not, unless I missed something.  This needs to be corrected – I would strongly recommend SLOW, MEDIUM, FAST and OFF options.
INCONSISTENT DISPLAY ISSUES
It's one thing to have the neat feature of multi-color display – quite another to ensure QC.  On the receiver I tested, the display seemed to suffer from inconsistent coloration.  All labels on every radio should be of consistent clear quality.
ABSENT RECALIBRATION FUNCTION
In the E1 receiver, designed and produced in conjunction with R.L. Drake there was a way to access the Master Oscillator adjustable potentiometer, via a small hole visible through the back cabinet of the receiver.  Though a very touchy adjustment due to the low quality of the plastic, it nonetheless satisfied users wanting to make such an adjustment.
Photos published previously here on SWLing.com show a OSC port visible on a main board inside the Elite Satellit.  But there is no way to easily access this adjustment point – doing so requires removing the rear of the cabinet, though according to one highly-capable technician who photographed the interior, removing the cabinet back is easier than with the E1.
Very late serial numbers of the E1 are reported to have had a MENU option for calibration adjustments, though I have never personally seen a E1 with this feature.  Unfortunately, in the Elite Satellit Eton decided to deliver a receiver, at an extremely high price point, that lacks any way to make fine adjustments (even via the menu) – something that is possible on Tecsun receivers from the H-501x down.
ONE LESS DIGIT ON READOUT
The Elite Satellit has 10 Hz readout on SSB and when in AM Synchronous.  But when in non-SYNC AM, the smallest tuning increment is 1 khz.  Why Eton?  SO, on the Elite Satellit we have lost a digit on the main readout.  One can only speculate about why this was done.
TELESCOPIC ANTENNA DEFECTIVE
One of the first things noticed on the Elite Satellit I tested:  a telescopic antenna with sections that appeared to be loose, literally shaking as one handled the antenna.  Combine this with the fact that the floppy antenna issue from the E1 has not been corrected.  It makes one wonder what the Elite Satellit team was thinking.  To use a well-known description – putting a defective telescopic antenna on a portable radio is a "rookie mistake" and certainly not something we would expect from Eton at this point.
FM BLEED THROUGH TO HF BANDS
I was unable to fully examine this issue, but it has been reported by those who purchased the Elite Satellit.  This is something that Eton needs to address as it makes corrections to the receiver.
BANDWIDTH SELECTIONS
On shortwave in AM mode, bandwidth selections seem to be nice, but the widest bandwidth setting when in SYNC mode is 4.0 kHz.  This is inadequate and needs to be corrected.
PAL ANTENNA INPUT
Why Eton did you stay with the old European style PAL antenna input?  Perhaps this was a decision made to appeal primarily to European and other global users – it certainly does not help with U.S. users.  A BNC or even RCA connector would have been better.  This was a case where moving away from E1 design would have been wiser.
OVERALL RECEPTION CAPABILITY
In testing the one Elite Satellit that I was able to get access to, I was not able to come to any conclusions about sensitivity and overall reception capability.  I did have a E1 next to the Elite Satellit, and to my ears, the E1 was quieter than the new receiver.  But again, I can't be conclusive on this point and will have to wait until some time in the future when hopefully Eton ships revised radios out to the listening public.
So . . . Eton – I am sure I reflect the thinking of many in the global listening community in expressing the wish that design and QC problems on the Elite Satellit be corrected. But doing so will require a determination to stop cutting corners.
It appears that not enough was learned from the E1, which remains a highly-prized possession for many of us.  Excellent features, such as true Pass Band Tuning and multi-level AGC were sacrificed.  The puzzling decision to release the Elite Satellit with muted tuning indicates insufficient thinking on this issue.
Finally, Eton, the elephant in the room.  With the existing QC and design issues, there is no way that the Elite Satellit deserves a $700 price point.  Even if these problems are corrected this works out to roughly two to three times the price of advanced portables by other companies, which have included innovations such as Bluetooth, microSD and dual battery capability.
Eton still has the an opportunity to produce a revised version of the Elite Satellit that users will be proud to own and use in 2022 and 2023 – but only if it takes critiques that you have received seriously.
I urge Eton to each out to key reviewers, and importantly – when you have addressed the issues mentioned above, by all means send out units for advance assessments, and do that very early in the game.  You don't want and cannot afford a repeat of the initial Elite Satellit disaster.
Thanks for listening to this input, which is given in the hope that Eton will act on these points and be able to provide the listening community with a receiver that is competitive with the best of what is available today.
Daniel A. Robinson
Potomac, MD (USA)