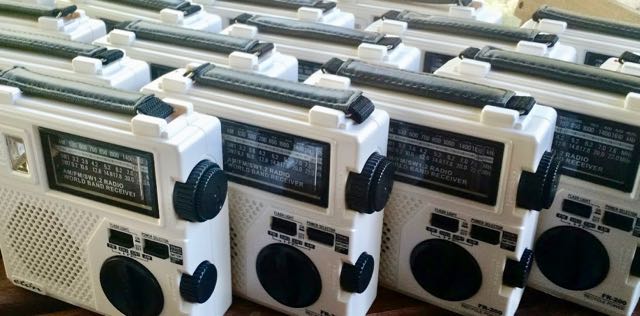 Radio Waves:  Stories Making Waves in the World of Radio
Welcome to the SWLing Post's Radio Waves, a collection of links to interesting stories making waves in the world of radio. Enjoy!
---
Although Irish pirate radio is our main interest, today we explore the lively pirate scene in the Brooklyn area of New York City. The Brooklyn Pirate Radio Sound Map is a fascinating project established by radio producer and audio archivist David Goren and provides interactive maps and historical and contemporary recordings of the many unlicensed stations in Brooklyn.
This is a longer version of an interview by John Walsh with David Goren first featured in Wireless, a series about radio, audio and media on Flirt FM in Galway. It covers the history of pirate radio in Brooklyn and New York generally, attempts to crack down on the unlicensed stations, the role of low-powered FM, the background to the Brooklyn Pirate Radio Sound Map itself and plans for the future. Many thanks to David for taking the time to explain this fantastic project for us. [Read the full article and listen to the interview on the Irish Pirate Radio Audio Archive…]
From AM-only portables to multi-function machines
With the advent of the 9V battery-powered transistor radio in the 1950s, the "Emergency Radio" was born.
Unlike vacuum tube receivers with heavy batteries or unpowered crystal radios, these handheld AM portables were small and simple enough to keep in a drawer. They could then be retrieved whenever man-made or natural disasters knocked out the power, providing listeners with lifeline connections to news, weather and relief information.
Since that time, emergency radios have evolved into multi-functional information/survival platforms. Models made by manufacturers such as C. Crane, Eton Corp., Kaito Electronics, RunningSnail and Sangean, among others, offer so many useful features — including AM/FM/Weather bands, hand-crank and solar rechargeable batteries, and built-in flashlights — that they have become the Swiss Army knives of radio receivers.
What inspired the change
According to people who design and manufacture emergency radios, it was the Baygen Freeplay Wind Up Radio that transformed this industry's technological thinking in the 1990s.
It was based on a clockwork-powered electrical generator developed by U.K. inventor Trevor Baylis. The generator was driven by a hand-cranked internal spring that, when fully wound, could run the radio for up to 30 minutes. Baylis invented this power source so that people in Africa could have access to health information about AIDS.
"It was the Freeplay Wind Up Radio that spurred my interest in emergency radios," said Walter Zhao, founder and owner of Kaito Electronics.
"I improved this approach by studying hand-cranked electrical generators used by the Chinese army and using this technology to recharge batteries within emergency radios, rather than relying on a spring," he said. [Continue reading…]
The ARRL reports while participating in the Black Hills Amateur Radio Club's (ARC) annual Summits on the Air (SOTA) event in South Dakota on July 16, 2022, two amateur radio operators helped spot a potential forest fire
ARRL say:
Ryan Lindblom, KE0LXT, President of the Black Hills ARC, and Christopher Jaques, KD0RAS, had made their trek to Cicero Peak. Just before heading back down, they noticed what might be smoke or dust to the south near Hot Springs. Lindblom made a contact on their simplex frequency to ask a local amateur radio operator if there had been any reports of Forest Service activity in the area.
An off-duty ranger was monitoring a local ham repeater from his home, heard traffic from Cicero Peak, and called in the alert. A fire crew and a helicopter were able to contain a small fire 2.5 miles south of Pringle, South Dakota.
Ward Hall, WC0Y, attending the Black Hills SOTA weekend for his second year, reported that a forest ranger on Bear Mountain stepped out of the ranger tower to greet him, but at the time, was busy monitoring firefighting traffic.
"I could hear the radio activity while I was on the ground near the tower," said Hall. "The ranger later told me that the Forest Service was alerted to a small fire when an off-duty ranger was monitoring a local ham repeater and heard the traffic from Cicero Peak." Hall said the ranger credited the ham activity for an early alert that allowed them to address the fire while it was small. "He was very appreciative of how the ham activity helped them and asked that I pass it on," Hall added.
ARRL Dakota Division Director Bill Lippert, AC0W, applauded the work of the amateur radio operaters for early reporting of what could have been a major fire, as well as credited the Forest Service for their quick response.
The Black Hills Amateur Radio Club had 12 people participating in their Black Hills SOTA weekend. The club has 75 members and covers the Black Hills region of South Dakota, which is in the southwest corner of the state. They are headquartered in Rapid City, South Dakota, and they are an ARRL Affiliated Club.
Source ARRL Letter July 28, 2022
http://www.arrl.org/arrlletter
The days of Morse Code are long gone and almost forgotten by the young generation of today. But a small group of old ex telegraphists from around Australia are dedicated to preserving, remembering and educating how important Morse code once was to Australia.
Click here to view on YouTube.
---
Do you enjoy the SWLing Post?
Please consider supporting us via Patreon or our Coffee Fund!
Your support makes articles like this one possible. Thank you!