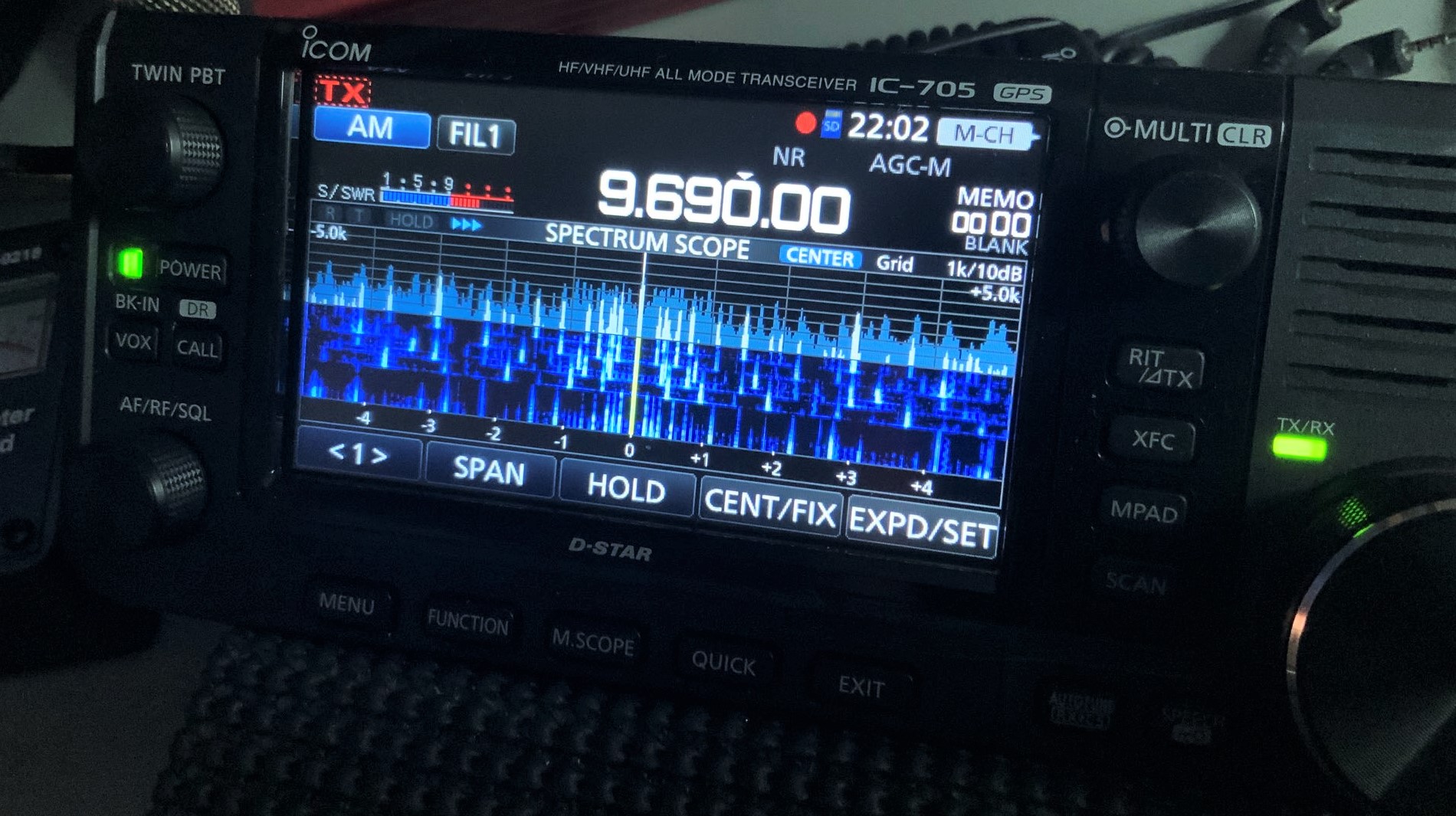 Radio Waves:  Stories Making Waves in the World of Radio
Welcome to the SWLing Post's Radio Waves, a collection of links to interesting stories making waves in the world of radio. Enjoy!
---
Running a radio station is, on the face of it, a straightforward technical challenge. Build a studio, hook it up to a transmitter, and you're good to go. But what happens when your station is not a single Rebel Radio-style hilltop installation, but a national chain of transmitter sites fed from a variety of city-based studios? This is the problem facing the BBC with their national UK FM transmitter chain, and since the 1980s it has been fed by a series of NICAM digital data streams. We mentioned back in 2016 how the ageing equipment had been replaced with a modern FPGA-based implementation without any listeners noticing, and now thanks to [Matt Millman], we have a chance to see a teardown of the original 1980s units. The tech is relatively easy to understand from a 2020s perspective, but it still contains a few surprises. [Continue reading at Hackaday…]
This year's IBC DRM virtual event, held on 6th September, was very well received by many participants world-wide. The much-awaited session on DRM receivers gave the listeners and viewers the opportunity to learn about new, hot off the press, receiver products and solutions in this sector.
A new cost-effective DRM solution developed by CML Microsystems in conjunction with Cambridge Consultants in the UK, is just one example. Their product is a multi-band broadcast DRM receiver module that makes it quick and easy for manufacturers to build DRM radio sets. The module supports DRM and analogue reception in the AM and VHF bands. Applicable IP royalties are included in the module price. The module also supports a remote controlled mode and thus can serve as the basis for full-featured DRM radio sets. The module is scheduled to be available to industry partners from Q1 2023.
Gospell from China presented their entire range of well-established and full-featured DRM receivers consisting of desktop and pocket radios, with support for EWF Emergency Warning Functionality and Journaline text service. In addition, Gospell unveiled their new car radio for easy integration, the Stereo Digital Radio Receiver GR-520. All models provide DRM reception across all DRM broadcast bands.
The Swiss company Starwaves announced three upcoming DRM receiver solutions: A complete and full-featured DRM and analogue AM/FM receiver module available to receiver manufacturers, with automotive-grade tuning and fast scanning across all DRM frequency bands and support for EWF Emergency Warning Functionality and Journaline text service. A first consumer receiver model built on this DRM module will be the W2401 desktop radio priced at €79. An even more advanced receiver at 99€ will in addition feature a built-in WiFi hotspot for web browser access to the DRM content. All Starwaves receivers can be enhanced with DAB+ functionality if required by a local market.
Starwaves also offers the DRM SoftRadio App for Android phones and tablets, which upgrades any device by connecting an analogue RF SDR dongle to a full-featured DRM receiver. The app is available in major app stores including Google, Huawei and Amazon.
Exciting DRM receiver solutions for professional applications and device manufacturers were presented by Fraunhofer IIS (Germany), such as the automotive receiver kit software SDR, and the DRM MultimediaPlayer Radio App as the basis of professional and consumer-grade radio implementations.
NXP, the leading, global semiconductor manufacturer, showcased their complete portfolio of automotive qualified suite of DRM chipsets for car receivers for all DRM broadcast bands.
Other companies from India, such as OptM and Inntot, as well as the South Korean manufacturer RF2Digital contributed to the pre-IBC DRM virtual event with videos presenting their solutions for DRM use in desktop radios, mobile phones and in cars.
CML Microsystems/Cambridge Consultants, Gospell, Starwaves and Fraunhofer IIS will also be present in Amsterdam during the IBC expo on the 10th September together with other key DRM members, such as BBC, Encompass, Nautel and RFmondial. IBC visitors participating in the two DRM sessions at the Fraunhofer IIS booth and at the Nautel booth will experience live demonstrations of the new DRM receivers and modules.
Selected news from the presentation on September 6th including from the DRM receiver section are available as a free download: https://s.drm.org/KJr9.
[Click here to read the full article.]
QSO Today Virtual Ham Expo is this weekend!
[The] QSO Today Virtual Ham Expo kicks off this Friday evening, September 16th at 1800 Pacific.
The Expo officially opens on September 17 2022 at, 01:00 UTC or September 16th at 6:00 PM Pacific.
To attend, all you need to do is go to the following website: https://qsotoday.vfairs.com. Simply login using the same email address that you used to purchase your ticket. No password is needed. You can test in advance to see that it works.
Click here to purchase your ticket and attend!
DARC reports on the planned introduction of an entry-level amateur radio license, it will be limited to just 10w EIRP in the 144 and 430 MHz bands but they can build their own equipment
A translation of the DARC post reads:
Today [June 7], the Federal Ministry for Digital Affairs and Transport presented the draft of a new amateur radio regulation that will bring some innovations for all radio amateurs.
The chairman of the DARC e. V. and the Round Table Amateur Radio (RTA), Christian Entsfellner, DL3MBG was pleased: "The new regulation implements long-standing requirements of the DARC and the Round Table Amateur Radio. Remote operation will finally be allowed in the future. The Ministry has also implemented our demand for a beginner class, which has existed since 2008.
This makes it much easier to get started with amateur radio." While the existing classes E and A are raised in level due to the introduction of new topics from digital technology, class N focuses on operational knowledge, regulations and basic knowledge of the technology.
Holders of the new Class N will be allowed to transmit on 2m and 70cm with a maximum power of 10W EIRP. "The new entry-level class should offer access to amateur radio in particular to young people and older people in accordance with international requirements," explains board member Ronny Jerke, DG2RON. The legally stipulated self-build right is not restricted, so even beginners can develop, set up and put into operation radio devices or hotspots themselves.
The exam will follow a cumulative system, e.g. B. is known from the US amateur radio test. First of all, the exam for class N is taken, which already contains all questions from the areas of operational knowledge and regulations. The technical test for class E and then for class A can then be taken.
"The examination catalogs developed by the DARC for the three classes are structured in such a way that the content and questions are not repeated, i. H. Content that has already been examined in a lower class no longer plays a role in the examination for a higher class. So all future radio amateurs go through the exams of class N, through E to class A. It should be possible to take all the exams in one day.
The previously unregulated remote operation has been included in the new amateur radio regulation. Holders of license class A may in future operate amateur radio stations remotely and also allow other radio amateurs to use class A. Another important innovation concerns the training radio operation, which will be possible in the future without a separate training call sign. Instead, adding the prefix "DN/" makes any Class E or Class A callsign a training callsign.
The RTA now has 4 weeks to comment on the draft regulation. The board and the departments of the DARC have already started to examine the text of the ordinance in detail and will report promptly.
The press release from the Federal Ministry for Digital Affairs and Transport can be found at
https://bmdv.bund.de/SharedDocs/DE/Pressemitteilungen/2022/065-kluckert-amateurfunkverordnung.html
Attached to the press release is a draft of the second ordinance amending the amateur radio ordinance. This can be found as a PDF file at
https://bmdv.bund.de/SharedDocs/DE/Gesetze-20/zzwei-verordnung-aenderung-amateurfunkverordnung.html
Source DARC https://darc.de/
---
Do you enjoy the SWLing Post?
Please consider supporting us via Patreon or our Coffee Fund!
Your support makes articles like this one possible. Thank you!