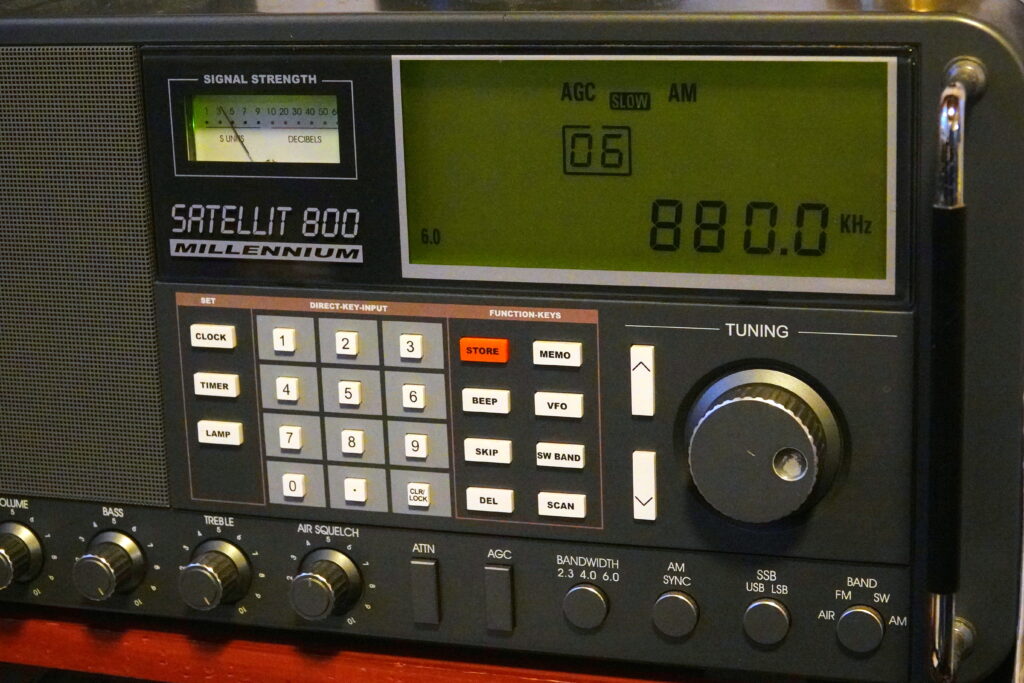 By Jock Elliott, KB2GOM
It was a reader, Mario Filippi, who set me on this path. He posted a comment that said, in part: "An interesting place to DX would be the segment between 1500 – 1590 kc's where there are a number of news stations, one being federal news on 1500."
Huh, I thought, federal news? I wonder if I can hear that. So I hooked up the MFJ 1886 Receive Loop Antenna to my Grundig Satellit 800 receiver and tuned to 1500. With the 800's whip antenna, I heard mostly static; switching to the 50-foot indoor room loop, pretty much the same; same thing with the 1886 with the amplifier turned off. But turn the 1886's amplifier on, and it was like getting slammed against the wall by the schoolyard bully: LISTEN TO ME! A big, fat, S9 signal, sounding like WGY 810 just a few miles from me. Wow, I thought, this loop can really pull out a signal.
A little research revealed, as nearly as I can tell, that Federal News 1500 is in Washington, DC, over 300 miles from me. Over the next few days I would occasionally check on Federal News 1500 using the 1886 loop, and typically it was loud and clear here in Troy, NY.
Early this morning, Jan. 28, 2023, a thought crept into my brain: how many big, fat, MW signals could I detect with the combo of the Satellite 800 and the MFJ 1886 loop antenna? (Bear in mind that my 1886 rests flat against a window and is NOT rotatable in its current configuration.) Here's the log, with station IDs when I could get them.
Time                Frequency                   Station
1100Z              1520                            WWKB Buffalo
1102Z              1530                            Milwaukee? Sports, Australian open
1106Z              1540                            CHIN Toronto, old time radio programs
1112Z              1560                            religious music
1115Z              1660                            orchestral music, Strauss waltzes
1118Z              540                              middle eastern music
1121Z              660                              WFAN, NYC
1124Z              700                              WLW, Cincinnati
1127Z              710                              WOR, the Voice of New York
1129Z              730                              French language, Canada mentioned
1132Z              750                              WSB, Atlanta
1134Z              770                              WABC, NYC
1135Z              790                              ortho doctor show
1138Z              860                              French language, Canada mentioned
1140Z              880                              WCBS, NYC
1142Z              1010                            WINS, NYC
1144Z              1020                            Talk
1146Z              1030                            WBZ, Boston
1148Z              1050                            WEPN, ESPN radio, New York
1149Z              1060                            KYW, Philadelphia, PA
1153Z              1090                            WBAL, Baltimore
1154Z              1110                            WBT Charlotte, NC
Bottom line: it was immense fun, tuning around for "fat" MW stations in the early AM. Periodically I checked the other antennas as I traversed the band, but universally the MFJ 1886 was better at pulling them in.
Fat station DX? You bet! Try it; you'll like it!