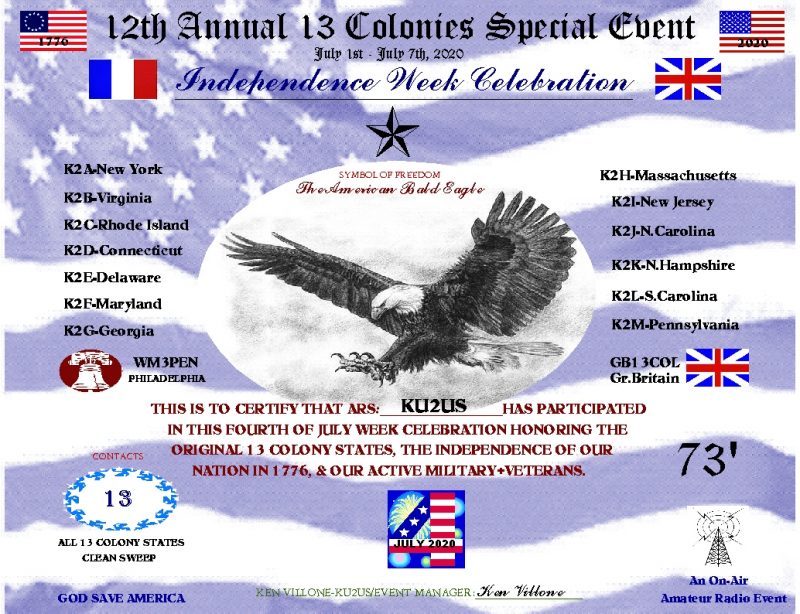 Although I've been rather busy the past few days, I have managed to fit in a little radio time.
On Wednesday, I spent part of the day doing the RAC (Radio Amateurs of Canada) Contest to celebrate Canada Day. My simple goal in mind was to work as many provinces as I could. Although I only made a total of 25 contacts, I managed to work the ten provinces along the Canada/US border (including Newfoundland and PEI).
During the RAC event I heard pileups for the 13 Colonies Event which is held each year in conjunction with the 4th of July weekend. I like this event because it's accessible yet challenging.
Yesterday morning, I decided to start collecting colonies. By the end of the day, I made a "Clean Sweep" of all of the colonies and even worked one of the "bonus" stations (WM3PEN). Over the next couple of days, I'l try to snag the other bonus station, GB13COL.
As you can see by my log sheet, I had to employ three different modes to snag all of these in short order: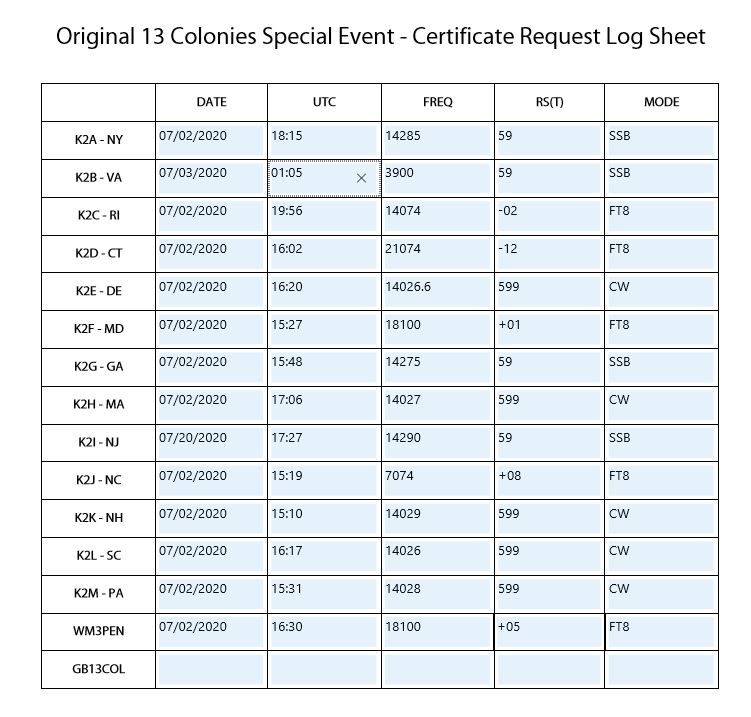 I'm not a contester by any stretch of the imagination, but I was able to snag these stations within 12 hours without sitting in front of the radio the whole day.  I simply checked the DX Cluster from time-to-time and pounced when the path was favorable. (All of my CW contacts were QRP, too.)
An SWL-friendly event!
What's so great about the 13 Colonies Event is that they strongly encourage SWLs to participate! From the 13 Colonies website:
ATTENTION SWLs: All Short Wave listeners (SWL). You will also qualify for the certificate. Follow the instructions on the Certificates page when you submit your log. A special SWL logo will be affixed to the certificate for you. One or all 13 stations logged qualifies you. Just log ALL of the 13 Colony states and you can get a complete set of custom special event QSL cards also! All 13 are different. QSL requests to be made to each individual Colony State Station with an SASE. Consider becoming a HAM too! 🙂

Look at all the fun we are having! (NASWA members-watch for us in your monthly journal publication).
All you need to participate is a radio with a BFO or SSB mode. Even a portable radio can easily handle this as most event stations are easy to hear throughout North America.
If you live outside North America or you don't have a radio with SSB capabilities, consider participating via a KiwiSDR site. There's certainly nothing wrong with this as I heard a number of remote ham radio operators working stations yesterday.  If you choose to use the WebSDR/KiwiSDR route, I would personally stick with one geographic location for the entire event and declare the receiver location/url on your log sheet.
The event takes place July 1, 2020-1300 UTC to July 8, 2020-0400 UTC, so you still have plenty of time!.
Click here to read more at the 13 Colonies Event website and request a certificate.
Please comment if you plan to take part in the event or have in the past!