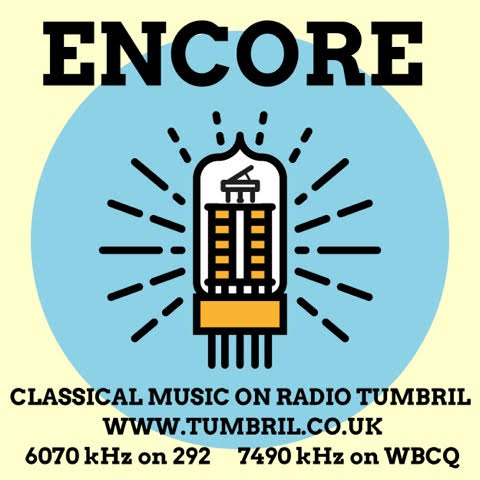 Encore – Classical Music on shortwave – broadcast Sunday afternoon in Europe & USA
Encore – Classical Music this weekend is being broadcast as usual by Channel 292 (Europe) on 6070 kHz at 15:00 UTC Sunday 28th April.
Back on the air after ten days of maintenance.
And by WBCQ on 7490 kHz at 00:00 – 01:00 UTC Monday 29th April.
There is a repeat on 6070 kHz on Friday at 19:00 UTC.
The show this week will start with a fanfare on medieval bladder pipes followed by some Holst and an organ sonata by Bach. We have two lyrical and romantic contemporary pieces from Thomas Adès, also some Telemann and Mozart. Amongst much else – Leonard Bernstein conducts Charles Ives and the programme finishes with some early Russian polyphony.
As usual – reception reports and requests for music to play in future programmes will be very welcome.
Regular Broadcast times are:
15:00 – 16:00 UTC Sunday, and repeated 19:00 – 20:00 UTC Friday on 6070 kHz (Channel 292 Germany).
00:00 – 01:00 UTC Monday on 7490 kHz (WBCQ – Maine).
Brice Avery – Encore – Radio Tumbril – www.tumbril.co.uk