(Source: Radio Tumbril)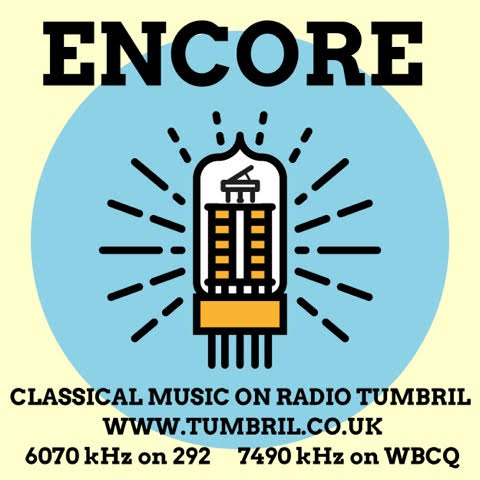 Classical Music on shortwave – broadcast Sunday afternoon in Europe & USA
Encore – Classical Music this weekend Is being broadcast as usual on WBCQ at 00:00 – 01:00 UTC Monday 22nd April.
Channel 292 is off air at the moment for servicing so the normal 15:00 UTC Sunday 21st April transmission will not happen this week.
The show will start with a Boccherini quintet, then some ballet music from Swan Lake.
There will also be some French wind band music, an organ work from Bach and some interesting works for the human voice.
As usual reception reports and requests for pieces to pay in future programmes will be very welcome.
Broadcast times are:
15:00 – 16:00 UTC Sunday, and repeated 19:00 – 20:00 UTC Friday on 6070 kHz (Channel 292 Germany).
00:00 – 01:00 UTC Monday on 7490 kHz (WBCQ – Maine).
(Channel 292 is off air for ten days from Monday 16th April.)
Brice Avery – Encore – Radio Tumbril – www.tumbril.co.uk