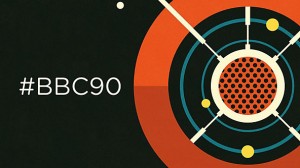 (Source: BBC)
The BBC today announced plans for an unprecedented global simulcast across its radio networks – including every UK station (local, network and national) and many World Service outlets – curated by Damon Albarn to mark 90 years of radio.
The simultaneous broadcast, called Radio Reunited, will take place on November 14 at 17:33 GMT – 90 years since the first broadcast from the British Broadcasting Company in 1922 – to a potential global audience of 120 million people across every inhabited continent.

The three-minute transmission will be based on recorded messages from listeners around the world on the theme of the future. Each of an estimated 60 BBC radio stations will choose one message and many of them will then be mixed together and set to a musical score specially composed by the Blur frontman.

It will form the centrepiece of the on-air celebrations to mark 90 years of BBC Radio, which will also feature a wide range of special programming across BBC stations, full details of which will be announced nearer the time.

[…]Damon Albarn said: "I love the idea of stations across Britain and the World Service coming together, with all of our different lives and circumstances, even if it's only for a few minutes. It's a powerful idea."

Radio Reunited is one of the key broadcasts to mark the anniversary. Two of the other major programming projects launched today to celebrate 90 years of BBC radio are:

– The Listeners' Archive – on October 11 the BBC begins a major initiative to recover the lost gems of the broadcasting archive by calling an 'amnesty' on recorded media.  Listeners are asked to scour their lofts, garages and cupboards for tapes, cassettes and other recordings of BBC radio programmes from 1936 to 2000, and hand them in at BBC Centres around the UK on 'Amnesty Day'. BBC Radio 2, BBC Radio 4, BBC Radio 5live, BBC Local Radio in England and the BBC Nations are all involved. Central to the project will be a series of shows on Radio 2 and 6 Music around the 90th anniversary, where clips of the recovered content – and possibly whole programmes – will be played, and introduced by the person who originally recorded them. [Continue reading…]
The BBC has full details of how you can participate.  I would hope that there are some readers of the SWLing Post who may have recordings to share for The Listener's Archive. I believe I have some old recordings of the BBC WS on New Year's Eve 1999–if I can only find them!