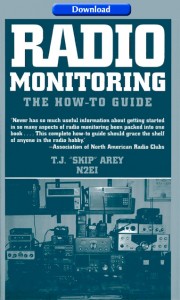 Author Skip Arey is now offering his third edition of the popular "Radio Monitoring – A How To Guide" as a free download via the NASWA website. This guide was originally published by Index Publishing Group and later released by Paladin Press–it had two very successful editions that sold for many years.
The guide recently went out of print but Skip has released it on line (for FREE) via Creative Commons license.
You can download a copy thanks to the North American Shortwave Association (NASWA) who have consented to be the primary online source for distribution. The direct link is .
On Skip's Facebook page, he said, "The hobby has been good to me over the years. I am happy to give this book back to
the radio community. Enjoy."
Thanks Skip! We will enjoy your fine publication.
I would strongly encourage you to use this as an opportunity to become a member of the NASWA.