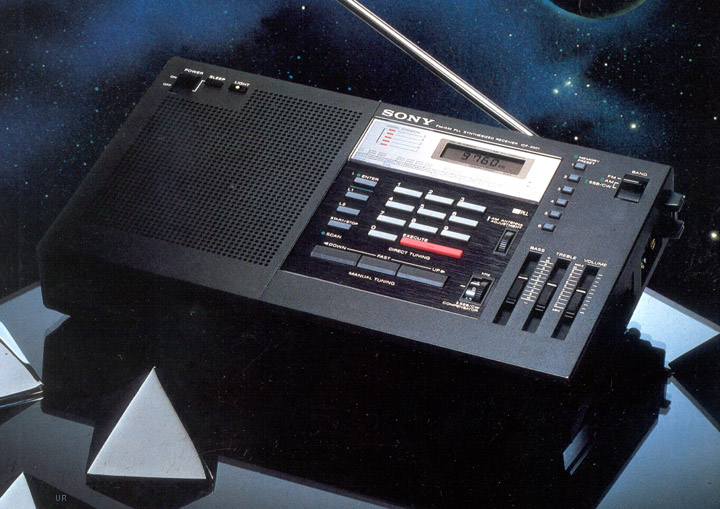 Many thanks to SWLing Post reader, Robert Yowell, who writes:
"I happen to be a huge Beatles fan, and especially a fan of John Lennon's solo music as well. The last album he recorded was "Double Fantasy" which was made in New York City during the summer of 1980.

As you probably know, Sony introduced that same year the revolutionary ICF-2001 PLL synthesized receiver. John was known to have been a great fan of home electronics, especially those produced by Sony and other Japanese manufacturers. He also was a great fan of radio – as his appearances on the local WNEW-FM rock music station in NYC in the 70's attest to."
"The attached photo was taken at the NYC studio called "The Record Plant" during the making of the album "Double Fantasy" in 1980.While I cannot be 100% sure that the ICF-2001 sitting on the table belonged to John – I think it is extremely likely. He still stayed in regular contact with his native England, and at this pre-Internet time, the only easy way for him to listen to the BBC was through this radio.

Another possibility is John enjoyed experimenting with new sounds in his music. During the Beatles, he even plugged in a radio into the sound mixing board when the song "I Am the Walrus" was recorded. You can hear at the end of the song a heterodyne whistle of tuning in a station as it settles on the BBC during a reading of Shakespeare's King Lear. Perhaps John was intending to do something similar in the studio the day this photo was taken?"
I imagine that was a good possibility, Robert. Again, many thanks for this bit of Lennon history.
For those of you who have never heard "I am the Walrus," you can listen below courtesy of YouTube: