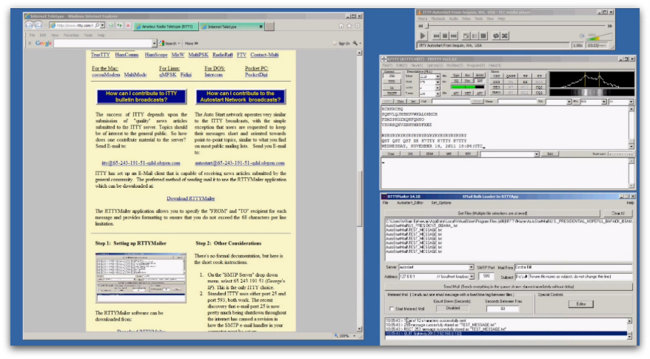 SWLing Post reader, George (NJ3H), writes:
First off, this short message is not about listening to anything over the radio, but over the internet. So I am sure that may be a disappointment for some. However, it does give folks a chance to listen to and decode RTTY and exercise their copy of FLDigi or MMTTY.

At rtty.com, there is an application called "Teletype over the Internet (ITTY)". Instructions are posted that allow the user to connect to the ITTY server (with WinAmp, Media Player, etc), hear teletype, and decode with you choice of decoding software.

I use Windows Media Player and FLDigi to copy the ITTY channel. As I recall, one must set "Reverse" to the on (green light) position in FLDigi.

There are folks who are continually uploading news articles (some serious – some offbeat). Instructions are included so you can upload your own news articles also.

So for times when nothing is happening on the radio or for something a little different to do, users may find this an enjoyable diversion.

Have fun and enjoy.
Many thanks, George.  Indeed, this is a great way to hone your RTTY decoding skills and build confidence in those who are new to this classic digital mode!
Click here to go to RTTY.com; the link to ITTY is found in the body of their home page.
I've pasted an instructional video below which gives a great overview if ITTY: