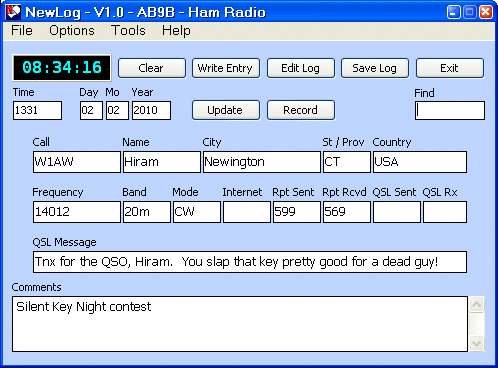 I recently received an inquiry from SWLing Post contributor, Geroge (NJ3H), who is a big fan of the simple logging application NewLog.
NewLog was written by Tom Lackamp (formerly AB9B) who was very well regarded in the community. Several years ago, however, he seemed to disappear: his callsign was reassigned and his email no longer works. Many assume, of course, that he could be SK.
UPDATE: Many thanks to the SWLing Post readers who shared the sad news that Tom Lackamp passed away on 12/26/2017 at age 70.
George has attempted to track Tom down because there are a few minor modifications he'd like to make to NewLog.
I'm told Tom openly encouraged his users to modify NewLog's source files that we believe to have been written in Delphi.
If you happen to have the source files for NewLog–or know of a way to locate them–can you please comment on this post? Perhaps NewLog can be given a second life in the hands of the right programmer. Of course, please comment if you know how to contact Tom Lackamp or if you know what might have happened to him.