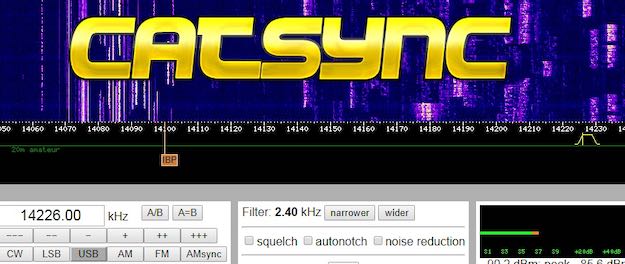 Many thanks to SWLing Post contributor, Rob (PE9PE), who writes:
This is an interesting tool for those hams suffering from lots of local QRM.
Thanks, Rob! CATSync seems to allow control of a web-based SDR from any OMNI Rig-supported radio via CAT control (which is the majority of transceivers). It appears CATSync allows control of tuning and mode changes via your radio and from the web SDR interface back to your rig.
One interesting use of this would be to use a remote SDR for receiving while using your home antenna for transmitting. This could help those inundated with RFI at home. While this might not be an allowed practice for contesting (having your receiver and transmitter in two different locations) it's certainly permitted if you want to check in with a net or chat with friends. You don't need CATSync to do this–you can always manually tune a web SDR separately–it would simply facilitate keeping both your RX and TX on the same frequency.
CATSync has a free trial with limited control–you can purchase the full version for 9.95 EUR.
Click here to check out CATSync.
Thanks for the tip, Rob!