Radio Waves:  Stories Making Waves in the World of Radio
Because I keep my ear to the waves, as well as receive many tips from others who do the same, I find myself privy to radio-related stories that might interest SWLing Post readers.  To that end: Welcome to the SWLing Post's Radio Waves, a collection of links to interesting stories making waves in the world of radio. Enjoy!
Many thanks to SWLing Post contributors Troy Riedel, Dave Zantow, NT, Wilbur Forcier, and Rob for the following tips:
---
Unlike today's blank sun, the solar disk 20 years ago was peppered with sunspots, including a monster named "AR9393." The biggest sunspot of Solar Cycle 23, AR9393 was a truly impressive sight, visible to the naked eye at sunset and crackling with X-class solar flares.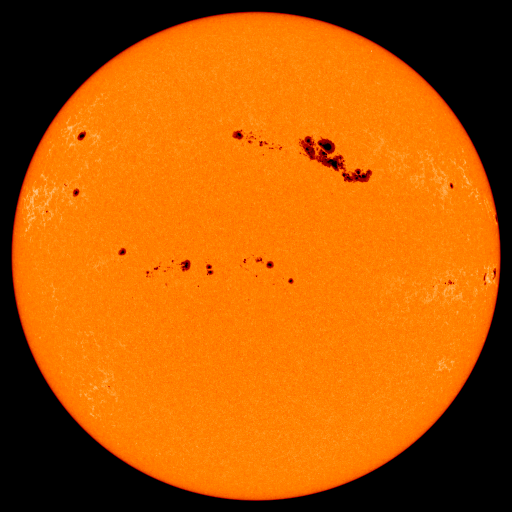 On March 29, 2001, AR9393 hurled a pair of CMEs directly toward Earth. The first one struck during the early hours of March 31, 2001. The leading edge of the shock front was dense (~150 protons/cc) and strongly magnetized — traits that give rise to powerful geomagnetic disturbances. Within hours, an extreme geomagnetic storm was underway, registering the maximum value of G5 on NOAA storm scales.

"I was fortunate to witness and photograph the event when I was just a teenager," recalls Lukasz Gornisiewicz, who watched the show from Medicine Hat, Alberta:
In the hours that followed, Northern Lights spread as far south as Mexico. In 20 year old notes, Dr. Tony Phillips of Spaceweather.com describes "red and green auroras dancing for hours" over the Sierra Nevada mountains of California at latitude +37 degrees. Similar displays were seen in Houston, Texas; Denver Colorado; and San Diego, California.

"Here in Payson, Arizona, red curtains and green streamers were pulsating all across the sky," wrote Dawn Schur when she submitted this picture to Spaceweather.com 20 years ago: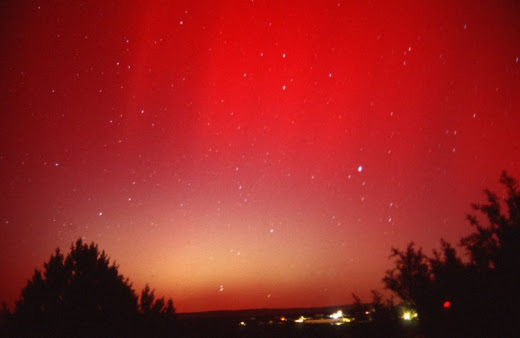 "We have seen some auroras here before, but this display was really special," she wrote.

A second CME struck at ~2200 UT on March 31th. Instead of firing up the storm, however, the impact quenched it. When the CME passed Earth the interplanetary magnetic field surrounding our planet suddenly turned north — an unfavorable direction for geomagnetic activity.

Indeed, the quenching action of the second CME may have saved power grids and other technological systems from damage. The storm's intensity (-Dst=367 nT) stopped just short of the famous March 14, 1989, event that caused the Quebec Blackout (-Dst=565 nT) and it was only a fraction of the powerful Carrington Event of 1859 (-Dst=~900 nT).

The whole episode lasted barely 24 hours, brief but intense. Visit Spaceweather.com archives for March 30, 31st and April 1, 2001, to re-live the event. Our photo gallery from 20 years ago is a must-see; almost all the pictures were taken on film! [Read more at Spaceweather.com…]
WASHINGTON (Reuters) -The U.S. Supreme Court on Thursday allowed the Federal Communication Commission to loosen local media ownership restrictions, handing a victory to broadcasters in a ruling that could facilitate industry consolidation as consumers increasingly move online.

In a 9-0 ruling authored by Justice Brett Kavanaugh, the justices overturned a lower court decision that had blocked the FCC's repeal of some media ownership regulations in 2017 for failing to consider the effects on ownership by racial minorities and women. Critics of the industry have said further consolidation could limit media choices for consumers.

The justices acted in appeals by the FCC, companies including News Corp, Fox Corp and Sinclair Broadcast Group Inc and the National Association of Broadcasters.

The associations for other broadcast networks' local affiliates, including ABC, NBC and CBS, backed the appeals, arguing that consolidation would help ensure the economic survival of local television amid heavy competition from internet companies that provide video content. Broadcast television stations have said they are increasingly losing advertising dollars to digital platforms.[…]
BERLIN (AP) — German authorities on Friday banned the sale and use of a New Age 'water vitalizer' device amid concerns that it is interfering with amateur radio signals.

The Federal Network Agency said it had received numerous reports that the device, sold by Swiss company Wassermatrix AG as a way to "activate" the body's self-healing powers, was transmitting on the frequencies allocated for ham radio users.

The agency said owners of the 8,000-euro ($9,540) device, which has been sold more than 2,400 times in Germany, are allowed to keep but not use it.

Wassermatrix AG didn't immediately respond to a request for comment.[…]
Canadian rock star Geddy Lee is less than thrilled with Sportsnet's decision to cut their dedicated radio broadcast of the Toronto Blue Jays for the 2021 season.
Sportsnet won't directly broadcast a separate radio feed and will instead simulcast their television broadcast over the airwaves for the 2021 season, becoming the first MLB team to do so. The decision was made to minimize travel and closely adhere to team, league, and government protocols related to the pandemic, Sportsnet said in a press release.
Lee, the lead singer for Rush, spoke about the importance of preserving a radio feed during an interview earlier in March.
Lee has been avid Blue Jays fan for years, throwing out the first pitch during the 2013 Blue Jays opener, and was a regular attendee at home games for decades.
It would be easy enough to spin this into "old man yells at cloud" in defence of a slightly outdated medium, but the sports media business is tough enough as it is, and the radio broadcast does indeed have charms that television simply can't replicate, which is especially important for the visually impaired.[…]
---
Do you enjoy the SWLing Post?
Please consider supporting us via Patreon or our Coffee Fund!
Your support makes articles like this one possible. Thank you!