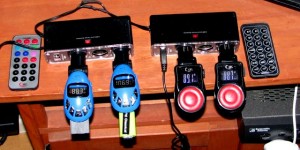 Dave Schmarder (N2DS) enjoys making radios and featuring them on his website, http://makearadio.com. What you may not know is that he also runs his own FM stations empire…and you can too:
I thought your visitors might be interested in my FM stations empire. I bought a bunch of mp3 players with built in fm transmitters that are usually used in a car and adapted them for home use. They all cost me under $4 each, plus a TF card for a couple bucks for each music transmitter.

At the moment I have 8 transmitters running, mostly with usb sticks looping music, but also a transmitter hooked to my tv cable box and another one to my internet radio.

This allows me to be anywhere in my little house and listen to these audio sources using a small Tecsun FM radio. During the summer I could sit on my porch and listen without dragging my radios or iPad outside.

Perhaps some of your visitors might be interested in having their own fm radio megaplex. Here is the link: http://www.n2ds.com/musiccenter/musiccenter.htm

73, Dave
N2DS
Thanks, Dave!
I've often thought of broadcasting 1930's and 40's music over a micro shortwave transmitter in my house. I would love to know if any readers have done this. Admittedly, it would take a pretty committed shortwave radio geek. Anyone? Anyone?