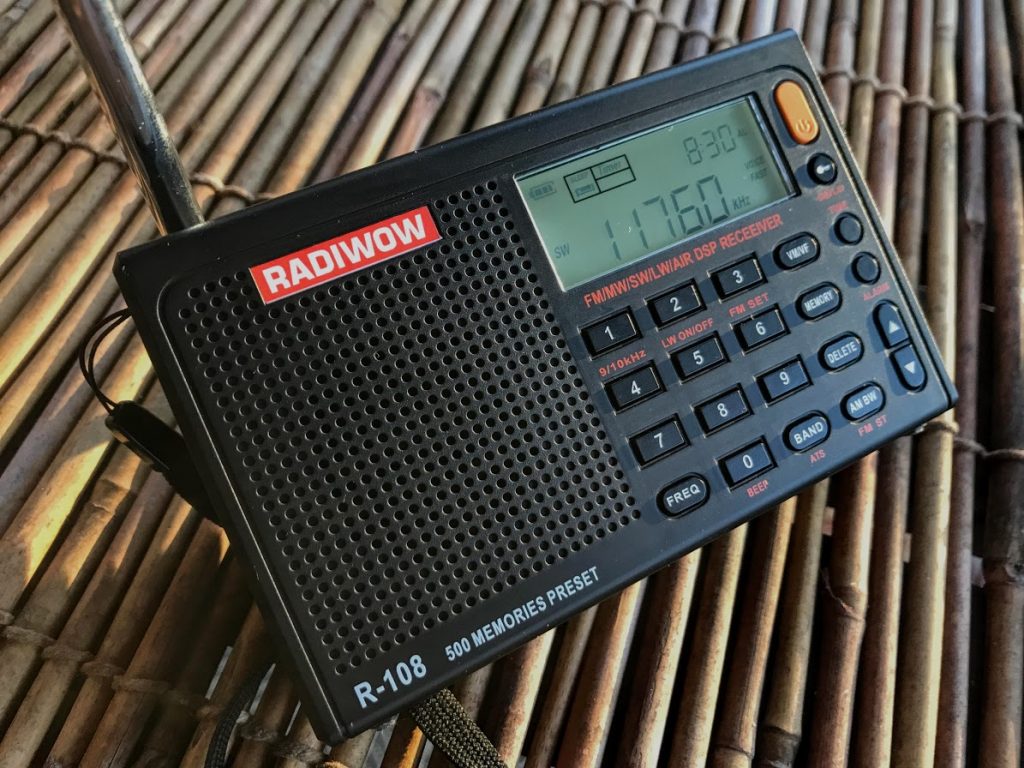 Last week, I received a new portable shortwave radio by the post from China: the Radiwow R-108.
The brand, Radiwow, was new to me, but I suspect they're linked in some way to the folks behind XHDATA. They contacted me around the Thanksgiving holiday and inquired about evaluating this new portable receiver. I replied, asking a few questions about the unit–you see, I don't typically agree to take a look at a new product if I think it could simply be a re-badged version of something currently on the market.
Their reply was simple:
"Yes, it is shortwave radio, like PL-310ET radio but add air band, and better reception performance. Your tracking number is…"
So evidently, it was already on the way.
Radiwow claims the performance is better than that of the venerable Tecsun PL-310ET. This, I will have to test because the PL-310ET is certainly a workhorse Ultralight radio. And the R-108 includes air band? Sounds like a CC Skywave without weather radio. That could be quite appealing if the price is competitive.
And it seems this little radio fits neatly into the requirements of Ultralight DXing, thus I hope Gary DeBock and Guy Atkins might take a look as well.
In addition, the R-108 includes longwave frequencies. Something I know will please a number of our readers.
Here are some of the key points I gleamed from a digital copy of the owner's manual:
Radiwow R108 Features:
Frequency range:

Longwave: 150-450 kHz)
Mediumwave/AM: 520-1710 kHz w/10 kHz steps, 522-1620 kHz w/9kHz steps
Shortwave: 1711-29,999 kHz
FM: 87.5-108 and 64-108 MHz
AIR: 118-137 MHz

ATS memory scans on all bands
500 available preset memories
Squelch control
Direct keypad entry of frequencies
Clock function with sleep timer, snooze and alarm (buzzer or radio)
Keylock
FM stereo
AM bandwidths: 6, 4, 3, 2, and 1 kHz selections
Music/Voice audio modes
Built-in intelligent charger for included 3.7V 1500 mAh Li-ion battery pack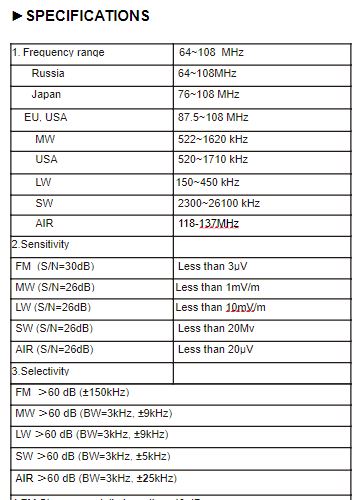 By the way, I suspect Radiwow is linked to XHDATA because 1.) they knew my shipping address without asking and 2.) their website prominently features the XHDATA D-808.
In addition, the only other place I could find the R-108 listed on the Internet is via AliExpress. As with the introduction of the XHDATA D-808, the AliExress price is (today) absurdly high. To me, this indicates that the page is simply a placeholder until the first production run is ready to ship.
I have a PL-310ET and you can count on me to compare the two sometime after the holidays.
In the meantime, I thought I'd share a few photos of the unit.
I must admit, the front panel of the radio looks familiar, but perhaps only because most other DSP portables have a similar layout. Please comment if you know of an identical portable.
Follow the tag Radiwow R-108 for updates.
---
Do you enjoy the SWLing Post?
Please consider supporting us via Patreon or our Coffee Fund!
Your support makes articles like this one possible. Thank you!