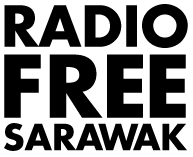 (Source: Free Malaysia Today)
KUCHING: Radio Free Sarawak is back after an almost four months hiatus. It is re-launching this week with an expanded team and greater ambitions.

It kicks off with a two hour daily timeslot from 6 – 8 pm on the shortwave 17560 kHz bandwidth.
According to its media release, the RFS "will continue to focus on the concerns and interests of the ordinary people of Sarawak, mainly rural folk, who currently have no access to an independent news source. "

"We will also address urban and Malaysia-wide issues in recognition of its popular following among internet users and listeners from other states," said the statement.

RFS has been credited for the Chief Minister Taib Mahmud-led Barisan Nasional coalition's losses in the mixed and rural constituencies in Sarawak in the April state polls where BN won 55 seats while the opposition made inroads with 15 seats, whilst one seat, Pelagus, went to independent George Lagong.

This was an unprecedented victory for the opposition.
Read the full article at Free Malaysia Today.
If you want to catch Radio Sarawak as DX, try 17,560 kHz between 1000-1200 UTC. Their broadcast is also available online via www.radiofreesarawak.org .