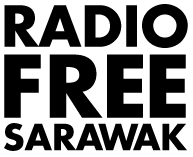 The independent radio station, Radio Free Sarawak has started broadcasting via shortwave on 7590 and 15680 kHz. RFS broadcasts are targeted to communities in Sarawak, East Malaysia at 6:30-7:30 and 18:00-19:00 local time (or 22:30-23:00 and 10:00-11:00 UTC respectively).
Per the RFS webite:
Radio Free Sarawak is the independent radio station that brings you the news you want to hear, not what others want you to hear. No one controls us, except you, the listeners of Sarawak . So tune in and enjoy the news, interviews, reports and comment that you will never get to hear on any of the other government-controlled radio stations in Sarawak. There will be plenty of our best music too, all presented to you in Iban by Papa Orang Utan, our own man from the jungle of Sarawak!
Radio Free Sarawak has been broadcasting daily since November 14th–you can listen to past episodes online.
Thanks to Myke (via FB) for the tip!
Links: