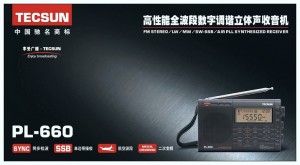 The Tecsun PL-660 is now available on eBay. This little radio could be worth grabbing as it has sync detection and the Air band (much like the Grundig G3). The price is right at $75 (black version) or $85 (silver version). Note that this radio is shipped directly from Hong Kong.
Search for the
Frequency Range:
FM : 76 ~ 108MHz
Japan 76 ~ 108MHz / Germany 87.5 ~ 108MHz
MW : 522 ~ 1620kHz (band step 1/9kHz for Asia / Africa / Europe) / 520 ~ 1710kHz (band step 10kHz for Northern America) ·
LW : 100KHz to 519KHz (band step 1/9kHz)
SW : 1711KHz to 29999KHz.(band step 1/5kHz)
AIR : 118~137MHz (band step 1/25kHz)
Noise Limit sensitivity:
FM band < 3uV @30dB.
MW band <1mV/m @26dB.
LW band <5mV/m @26dB.
SW band < 20uV @ 26dB.
SSB <1uV
AIR <5uV
Receiver
Dual Conversion
SSB (include upper side band & lower side band)
Air Band
SYNC
Tone Adjustment to adjust the TREBLE & BASS
Search for the
Thanks to OWL for the tip via the ShortwaveRadios Yahoo Group.