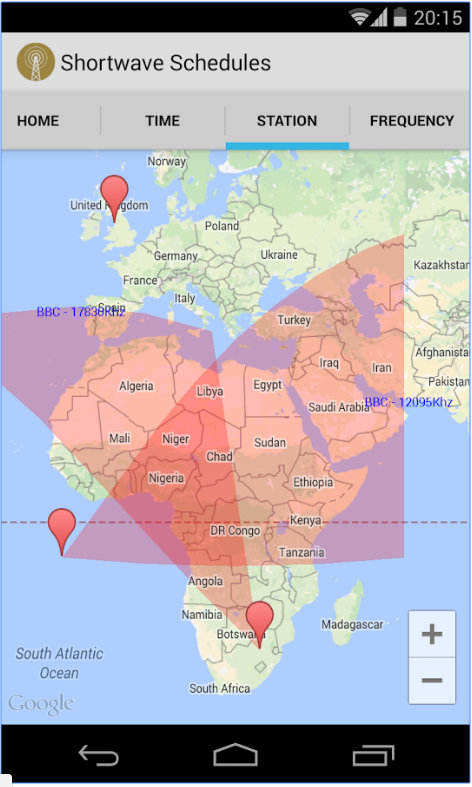 Many thanks to SWLing Post contributor and app developer, Stephen Cooper, who shares this press release:
7th August 2017 – Shortwave Radio Schedules adds Premium upgrade

Popular Android app Shortwave Radio Schedules has this week been updated to add two of
the most requested features as a premium upgrade to the app.

"Now" and "Favourites" options have been added to the app which currently is free in the
Android Play Store.

Current free features which will always remain free include the ability to search EiBi and
AOKI shortwave schedules by station, time or frequency. Search results are shown in a list
and can then be displayed on a map showing beam directions and broadcast power. The log
feature also allows a log to be kept of stations heard including SINPO rating with the ability
to export logs or share individual loggings via social media.

The new Now tab shows what stations are currently broadcasting using an innovative "radio
dial" style interface to browse through each shortwave band in the same way as a radio
would be used to tune up and down the bands.

The Favourites option allows stations to be "starred" and added to a favourites list making it
easy to quickly lookup the frequencies of stations regularly listened to. These favourite
stations can also be shown on a map.

All options including maps and logs are available offline (once the initial schedule download has taken place) making the app perfect for taking on DXpeditions where internet connectivity is not available.

The App is free in the Google Play Store with the Premium upgrade (adding Now / Favourites tab) available for GBP£1.49 / USD$1.49 / EUR€1.69.