Last week, I traveled to New York City by air and used trains, taxis and buses en route to Philadelphia. All the while, I carted along my luggage–and it's a good thing I like to travel light.
Indeed, I almost never check in luggage, no doubt a remnant of my days as an expatriate, when I was required to travel throughout Europe at a moment's notice. But I love traveling with only one bag. It's incredibly liberating. I revel in the challenge of fitting everything I need into one Eagle Creek convertible backpack/suitcase.
This latest trip was no exception, and I planned to do a little shortwave and medium wave DX along the way. So which radio did I reach for? Oddly enough, none of those I listed from my travel radio suggestions, my usual stand-bys. This time, I chose my Grundig G6.
I have had a mini Grundig G6 review out for a couple years now in which I praise it highly. I am surprised to find that many other reviewers only give it a lukewarm rating. I believe a lot of this stems from the fact that the radio's aircraft band (117-137 MHz) is not terribly sensitive or selective. Since purchasing the G6, I've only used the aircraft band once–during review. I leave aircraft and VHF/UHF listening to a proper scanner, preferably one with triple-conversion circuitry.
Yet I find that the Grundig G6 performs quite well on the shortwave and medium wave bands. Last week, while in NYC and Philadelphia, I was surrounded by big signals and didn't hear many instances of overloading or imaging. Sure, larger portables (like the Grundig G3, Tecsun PL-660, Sony ICF-SW7600GR, Sangean ATS-909X) will outperform the G6 on SW and MW, but none of those radios can comfortably fit in my pocket. In fact, the G6 is so small that it can get lost in my suitcase–oh, there it is, tucked among my socks. The portables mentioned above, though reasonably sized, will need some dedicated space.
There's another plus about the G6. It feels good in your hand. I have big, clumsy fingers, yet I still manage to punch in the frequency correctly every time. Having the (smooth) tuning knob in the upper left corner of the radio where it's accessible both on the side, and (more importantly) on the face, was a stroke of ergonomic genius by this little radio's designer. I wish more manufacturers would do this. It's so easy and comfortable to band scan using your thumb on the face of the tuning wheel, which is great when you're sitting around a campfire or listening to FM on a bumpy bus ride.
Don't get me wrong: if I were going on a DX vacation where I needed top-notch filtering, sync-detection and SSB, I would not pick the G6. For the odd business trip, though, it's the perfect little radio.
Pros:
Small, affordable and full-featured
Shortwave and medium wave reception are comparable to others in price class
Two bandwidth choices
Direct keypad entry of frequencies
Fluid and well-placed tuning knob
No chuffing/muting during band scans
Includes SSB (see con)
Great audio for a tiny speaker
Excellent ergonomics (especially for such a small package)
Aircraft Band (see con)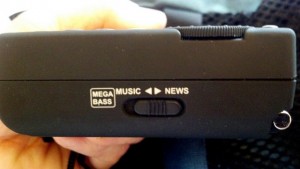 Cons:
SSB reception is mediocre–fine tuning is difficult
Volume button increments a little too steep (between 8-12) with headphones
Keypad not backlit
Some image problems on aircraft band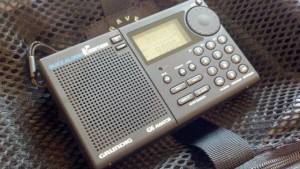 The Grundig G6 has been on the market a long time, in a consumer electronics life span. I would not wait to purchase one. Occasionally, RadioShack (in the US and Canada) will close out their stock of shortwave radios and the G6 can be found at bargain prices. Universal Radio currently has a promotion where if you buy a Grundig Satellit 750 for $299.95, you will receive a free Grundig G6. You get both a large portable/tabletop radio and a pocket-sized one in the same deal. That's great value!
Want specifications and other reviews of the Grundig G6? Check out our G6 entry in the Shortwave Radio Index.