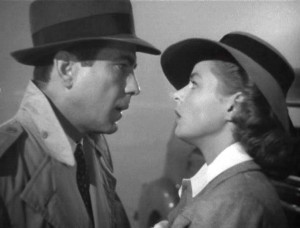 On Sunday, December 17th, around 22:00 UTC, I happened to pick up the last thirty minutes of Radio Casablanca; a pirate that plays a nostalgic mix of music from the 1930's and 1940's. They were broadcasting on 6939 kHz in AM.
Close your eyes, and you can imagine what it must have sounded like back in the day Phyllis Jeanne Creore Westerman graced the shortwaves.
You'll hear me tweaking the receiver in the first three minutes while, in the background, I was entertaining my children. I though about cutting it out but, on second thought, simply uploaded it as-is. I switched from a very wide AM bandwidth to AM sync and then AM sync with only the lower sideband (to kill some noise in the upper side band) after adjusting the center slightly below 6940 kHz.
I love how the recording starts on a tone and then morphs into Close as Pages in a Book by Benny Goodman and his Orchestra.
You can download the MP3 by clicking here, or simply listen in the embedded player below: