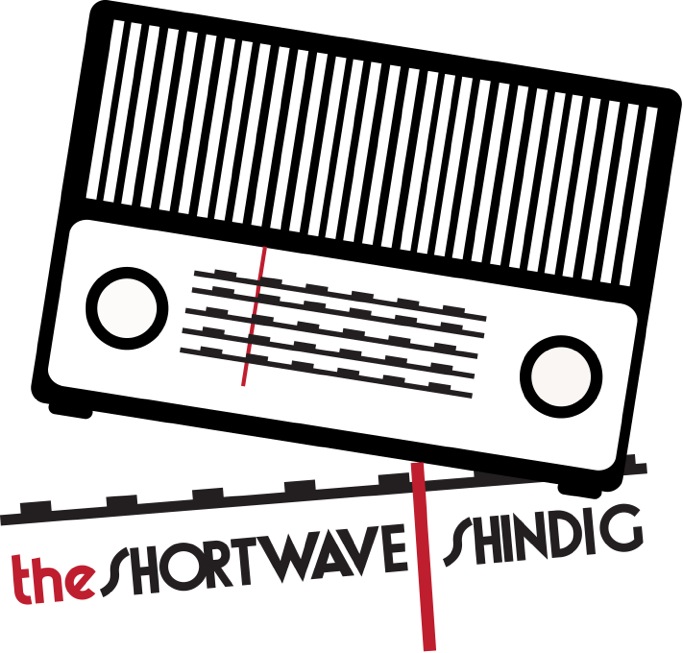 [Update (04/10/14): Check out promotional pricing for SWLing Post readers below.]
Remember that incredible live Shortwave Shindig broadcast of a few weeks ago? If you missed it, check out one of these recordings.
David Goren, radio producer and Shortwavelogist behind the broadcast, has printed up a series of terrific T-shirts to commemorate the event. Your purchase of a shirt will not only elevate your social standing (I mean, who has a T-shirt with the word "shortwave" on it?), but importantly, it will also help support more such broadcasts and radio productions out of the studios of Shortwaveology in future.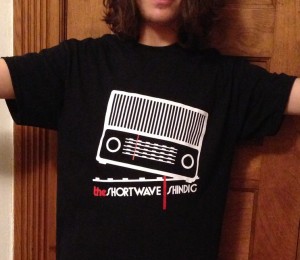 And did I mention that the funky retro logo design, above and right, is by the talented Jeff Murray, K1NSS? Gotta love it.
These shirts are 100% cotton and available in black (see right) or white.
I don't want to over-promise here, but I understand that wearing the Shortwave Shindig shirt can increase your chances of hearing the elusive Bhutan Broadcasting Service and many other signals–perhaps even ones that have recently gone off the air. Moreover, this shirt is 100% QRM free.
What are you waiting for?
Hop over to this page on Shortwaveology.net and order yours today!
And, dear readers, thanks for hanging on to my hard sell: this one's for a good cause.
UPDATE: Many thanks to David Goren who is offering a 10% discount to SWLing Post readers!  Simply enter the promotional coupon code "swling" at checkout. Total cost will then be $18 shipped! Click here to order your shirt. This promotion will only be available for two weeks, ending April 24, 2014.