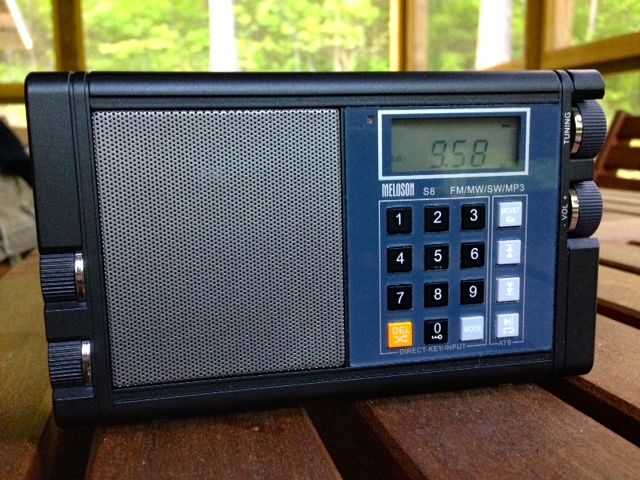 The radio manufacturer, Melson, caught my attention a couple of years ago when it released the Melson M7–an AM/FM radio with a built-in MicroSD MP3 player. It wasn't that an AM/FM/MP3 combo radio was that unique or novel, rather, what impressed me most was that the M7 delivered unexpectedly robust audio from its built-in speaker. I purchased an M7 last year and found that the little portable could easily fill the average-sized room with clear, rich audio, a truly superlative feature.
Other than its audio, however, the radio was fairly standard. My Melson M7 had good AM (medium wave) and FM sensitivity–well, at least on par with most other DSP portables in its price range. While the built-in MP3 player was basic, it was simple to use and functional. I loaded it with a MicroSD card filled with music and recordings, and put it to use as a mini-juke box of sorts. I didn't expect more from that radio, or from its line.
Introducing the Melson S8
But when I discovered that the newest portable in the Melson line, the Melson S8, could receive shortwave radio, I ordered one immediately. This time, I didn't have the radio in mind for personal use; I hoped it might serve our non-profit, Ears To Our World. At ETOW, we take information-delivery devices into parts of the world that currently lack access to the Internet. Shortwave radio is our usual medium, and most recently, we've put into service pre-recorded content loaded onto MicroSD cards–a simple way to give school children months of educational and musical programming. I had hoped the S8 might just support this need.
Overview
The Melson S8 resembles its sibling, the Melson M7, in every respect–down to the quirky "faux knobs" on the left side of the radio. Overall, the chassis feels sturdy and the buttons have a tactile response, with enough resistance to keep them from becoming accidentally pressed when, for example, the radio is packed in a suitcase. For shortwave and FM listening, the built-in antenna is rather short but sturdy.
Fortunately, the S8 also sports that amazing speaker found in the M7–a speaker that uses an acoustic chamber to achieve excellent audio. Since the S8 also has an AUX-in jack, it can be plugged into a laptop's headphone jack, reinventing the S8 as an amplified portable speaker.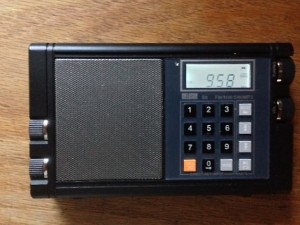 The S8 has a small digital display with backlighting that turns on or off depending upon the lighting level. For example, if it's outside in the sun, the photosensor will turn off the blue backlighting.
The controls are on the right side of the radio: the tuning knob, volume control, power button, MicroSD card slot, DC power input (mini USB), headphone jack, and AUX-in.
Both the tuning and volume knobs work smoothly, but don't feel quite as sturdy as I would like. I'm not sure how well they would hold up to years of daily use. When turning the tuning knob, the action is not seamless; you'll detect slight incremental "bumps" or pauses that coincide with the receiver's tuning steps on any given band. The volume control, however, is smooth, much as one would expect of a traditional analog radio.
The S8 utilizes the new slim rechargeable battery pack found in some Degen and Grundig models. While I'm not a great fan of these battery packs, they do seem to perform reasonably well and allow for a thinner radio.
Performance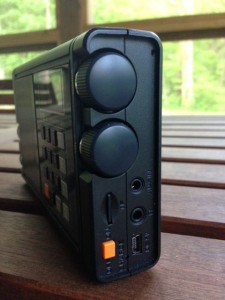 When you first power up the Melson S8, if you have a MicroSD card inserted, it defaults to the MP3 playback mode and will begin playing the first MP3 on your card. You must press the light grey MODE button to cycle through the bands. The order is as follows: MP3 -> FM -> AM/MW -> SW1 -> SW2. I find this a bit annoying, since I'm primarily interested in the shortwave bands, thus must cycle through all the other modes before arriving at my selection. When powering up, I do wish Melson permitted the radio to default to the last mode used, a standard practice among portables.
Like the Melson M7, the Melson S8 has good AM (medium wave) and excellent FM sensitivity. If these are the two bands you listen to most, then you will be pleased with the excellent audio the S8 will deliver via its built-in speaker.
On shortwave, however, I'm disappointed by this radio. Most of the DSP radios I've tested have reasonable shortwave sensitivity and selectivity; I had hoped for the same from the S8. Unfortunately, the S8 generates internal noise that pollutes shortwave listening. While the noise is present on most bands, I find that it's most pronounced on the popular 31 meter band.
There is the possibility that this noise might be specific to my particular unit. I spoke with a friend who didn't notice the noise on his S8, but he lives in an area with a lot of RFI, which may have obscured the unit noise. So while I recognize that this might be a defect in my radio, I'm not interested enough in the S8 to order another for comparison. However, I would be curious if any SWLing Post readers have noticed this, and welcome your observations.
So that you'll understand what I'm talking about with regards to the noise floor of the S8 (or at least my unit), below I include two audio clips of my Melson S8 and Tecsun PL-380, respectively, tuned to Radio Australia:
The Tecsun PL-380 on 9,580 kHz:
Note that the static crashes you hear in the recording are not due to performance shortcomings of either radio, but due to regional storms on the date of my recordings.
Summary
I took the following review notes of the Melson S8 from the moment I first turned it on…
Pros
To prevent the unit from accidently being turned on, the S8 has a traditional key lock and one must press and hold the power button to power up or shut down
ATS Auto tuning
AUX in
Good AM/FM performance
Standard mini USB port for charging
Cons
Noise (chirp) every ten seconds in MP3 mode via headphones
Telescoping antenna swivel a little too loose
MP3 fast-forward imprecise–upon stopping, it jumps ahead ?3 minutes on long recordings
Pronounced muting between frequencies while tuning
Tuning speed slow, cumbersome, not adaptive; 5 kHz steps only on shortwave
Internally-generated noise throughout the shortwave bands, noticeable on all but blowtorch signals
Non-standard MHz display on shortwave bands
Controls often have sloppy responses; e.g., one fast-forward button press in MP3 mode can yield two skips forward. Tuning knob can have a similar response
Back stand is a separate piece of plastic that can be easily lost
Even with light use, one of the rubber feet on my S8 has begun separating from the body (may be repairable with adhesive?)
I'm sure you'll note the number of cons in this list. As a result, I could not recommend purchasing the Melson S8, especially if you're seeking a good shortwave receiver. There are many other radios in the same price range which offer excellent shortwave reception. I would suggest the Tecsun PL-380 or Tecsun PL-310ET, instead.
If, however, you're looking for a portable AM/FM radio with a built-in MP3 player, you may be pleased with the S8. And as I suggested, I've also found the S8 useful in a pinch as a laptop speaker.
But if you already have a Melson M7, do keep it. It's a good radio, and functions well for what it does. I feel like the Melson S8 is an "upgrade" that its engineers never actually tested. If they had, they would certainly hear the high noise floor on the S8 and realize that this radio can only detect the strongest of stations.
I purchased my Melson S8 on Amazon, where the Melson M7 is also sold.