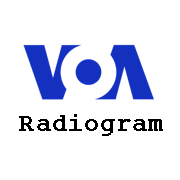 Dr. Kim Elliott, has been transmitting VOA Radiograms to a devoted set of global listeners for two years. Indeed, he recently passed a milestone by transmitting the 100th episode of the VOA Radiogram. Most impressive!
SWLing Post reader, Harald (DL1ABJ), recently sent the following message regarding reception of the 100th episode:
Dear Thomas,

Last weekend I decoded VOA Radiogram #100 on 17860 kHz AM (via Greenville, Edward R. Murrow TX station) from 1600 till 1630 UTC here in Germany.

Part of it was a text by Kim Andrew Elliott, KD9XB, telling a bit about his project of broadcasting text and pictures over AM transmitters on shortwave.

I am also attaching one of the pictures sent during VOA Radiogram #100.

Regards

Harald

VOARadiogram100
Click here to view/download Harald's text file (.RTF).
Many thanks for sharing this, Harald. VOA Radiograms are successfully decoded by listeners across the world. If you're interested in decoding a VOA Radiogram, or simply following the broadcasts, bookmark VOAradiogram.net.