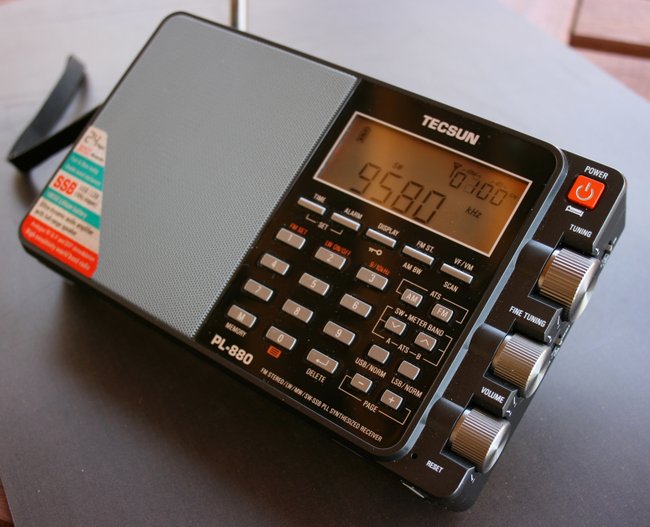 SWLing Post reader, Evans (in Greece) writes:
I would like your opinion regarding two strange points we noticed in two different Tecsun PL-880 models, which a friend and I have recently purchased. In particular:
The signal meter is supposed to measure up to 99dBu (my Tecsun PL-390 s-meter goes indeed up to 95-97dBu for very strong amateur signals in my area included mine in mw zone). The point is that for both devices (both of which have 8820 firmware) the signal meter does not exceed 85 dBu and in particular my Tecsun PL-880 signal meter does not goes over 70dBu (ie. even lower measurement). Why this behaviour?

Another strange point is that my friend's Tecsun receiver displays for a "quiet" frequency (mw) a noise level of about 10-12dBu, while my Tecsun device shows only 2-3dBu noise (same frequency in the same spot!). We both tried the threshold muting adjustment (key 9) and this worked a bit but with minor results in sensitivity, especially for my Tecsun PL-880 receiver. Is it possible to adjust the noise level so that it can be 10-12dBu instead of being only 2-3dBu and hence better sensitivity? And is it possible to adjust the maximum signal level (99dBu instead of 85dBu or even worse 70dBu for my device)?

I have noticed that the hidden feature regarding the external mw antenna didn't work in my case, even though I did resets an tried many times. I pressume, hence, that maybe Tecsun disabled this hidden feature. Is there any modification available to "add something" into the radio hardware in order to be able to listen mw/lw frequences with external antenna and thus, increase sensitivity?
Many thanks for your questions, Evans. Since my PL-880 is a first production run unit, I'm hoping readers who've recently purchased the Tecsun PL-880 might comment.
I suspect Tecsun engineers give little thought to calibrating the S meters. I'm very curious if there is a hidden feature to do this, but I'm guessing this is limited only to those who can program the DSP functionality of the chip inside.