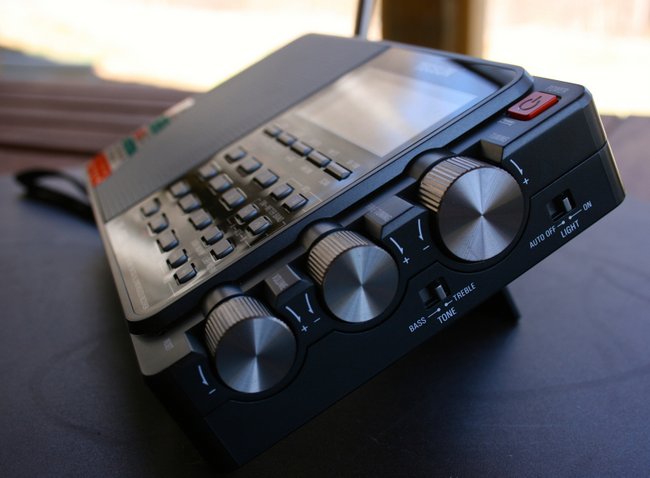 Many thanks to SWLing Post reader, Hector (AD4C) for discovering and sharing this hidden feature of the Tecsun PL-880. Hector writes:
---
"I have been using the Tecsun PL-600 for some time but never was satisfied with its performance in SSB, you can read my review on eham.
Last night I received the PL-880 I purchased trough amazon.com and I am really impressed with its performance, its a day and night difference compared with the PL-600, especially for SSB–the addition of narrow filters for LSB and USB made a huge improvement to the performance, also the availability of choosing different BW either on SSB or AM also improved a lot the reception.
I have to congratulate you for the well designed webpage you did to show all the hidden menu in this great radio but I have to tell you also that when performing all the menu by your links, I found by accident another one you did not mention. I'll explain with details:
Turn the radio ON, select FM, and go to freq that be in between two stations–an empty frequency–in my radio it will sound like complete silence because the squelch circuit is acting properly and majority of users will prefer to leave it like that to avoid the squelch noise BUT that decreases receiver sensitivity a few microvolts on FM, so because I am a dxer in any band, I reset the squelch threshold to have permanent noise or "open squelch" condition.
Now press and hold the key #9  

for more than 2 seconds 

to display the squelch value
Use the tuning wheel to adjust the squelch value. Mine was at 3 but when I moved it down to zero using the tuning knob the noise appeared in all frequencies between used ones and I could detect weak stations more than 100 miles away. This is good to know when propagation by sporadic E is open and an indicator for the 2 and 6 M dx chasers."
---
Many thanks, Hector! I've added this to the Tecsun PL-880 hidden feature list. The ability to lower squelch is, as you say, essential for FM DXing.
Note that I tried this hidden feature on my Tecsun PL-880 and it didn't work. My FM muting threshold must be set to 0, however, because I can hear static between stations. Tecsun must have made this addition after my radio was produced (mine came from one of the first '880 shipments in November 2013).
Have any other SWLing Post readers tried to adjust the FM muting threshold on their PL-880?