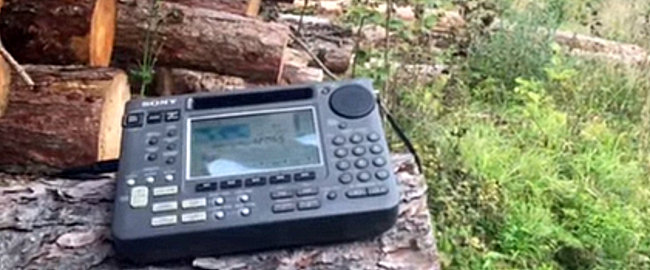 SWLing Post reader, "Oxford Shortwave Log" recently noted the following on our Facebook page:
"Hi there, I received some very nice feedback regarding almost perfect reception of Radio Australia during a mini DX-pedition into the Oxfordshire countryside and thought I would share it."
"I use a (now vintage I guess!) Sony ICF-SW55 and a 25 metre long-wire. There are lots more videos at on YouTube channel: Oxford Shortwave Log"
Great proof that Mini DXpeditions can pay off!
Sounds like that Sony ICF-SW55 performs admirably–it is certainly a classic portable.
I remember when the ICF-SW55 was introduced in 1993-1994; back when I was doing my undergraduate studies and had no funds for it. In the 1990s, Sony's portables almost seemed to be sent to us from the future–large informative displays, advanced memories, and incredible portable performance were the hallmarks.
On eBay, you'll find that the ICF-SW55 still fetches a high price.
OSL: thanks for sharing the videos!