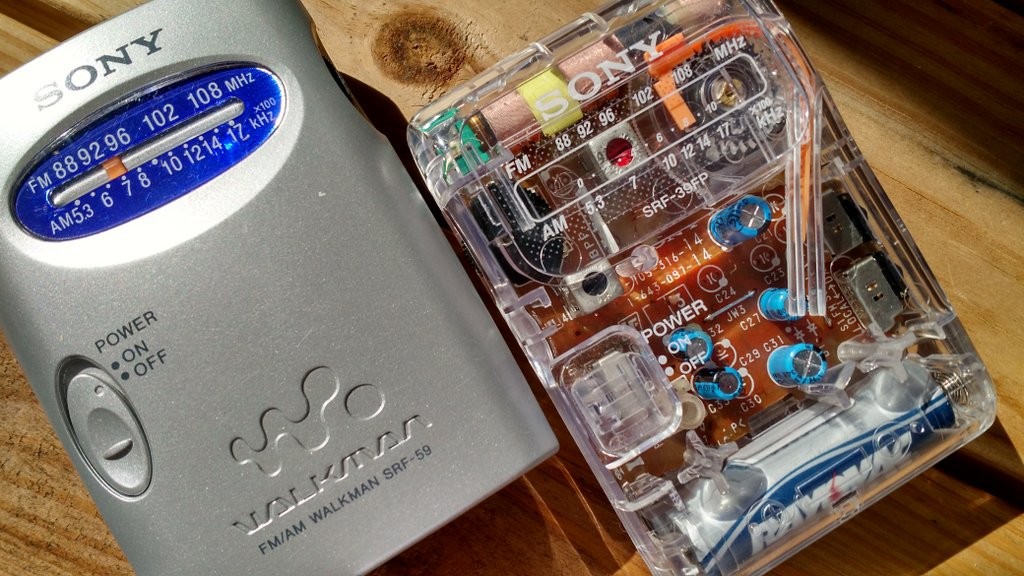 I have two of the Sony SRF series pocket AM/FM radios: the grey SRF-59 and the clear SRF-39FP.
The venerable SRF-59 has long been one of the least expensive, quality analog AM/FM receivers on the market. I originally purchased one new for $14.95 US including shipping. Here's a short review I made of the '59 several years ago.
The SRF-39FP–the model with the clear case–was specifically designed by Sony radio for the prison market.
A couple years ago, someone on eBay had a lot of Sony SRF-39FP units on sale–I jumped at the opportunity to buy one new-in-box for $20 US. The entire lot of SRF-39FPs sold in a matter of hours. Indeed, the '39FPs were so popular, by the time I prepared a post for the SWLing Post, the seller had already sold out. (I'm kicking myself for not buying at least one extra–!)
While most ultralight radio enthusiasts would give the SRF-39FP a performance edge over the SRF-59, they're essentially the same radio–especially if you tweak the SRF-59 like my buddy Dave Richards did.
Several weeks ago, while Steve researched the reason he was hearing shortwave broadcasters on his SRF-59, he also discovered that the SRF-59 had been discontinued and selling in many places for three or four times the original price.
He found one vendor still selling the SRF-59 for $14.99 plus shipping. I placed an order with this vendor over a month ago, but still haven't received the product because the vendor hasn't taken delivery of the final batch of units from Sony. I'm in contact with this vendor and when/if the units are received in stock next week, I'll post an update here on the SWLing Post (if interested, follow this tag).
If you're in the market for a Sony SRF-59, here are a few places you may find one new or used:
(If you know of other good suppliers, please comment!)
If you would prefer the Sony SRF-39FP, the only source I know of is eBay. When one becomes available, it typically sells for $45-50 US.
To be clear: while the SRF-59 is an exceptional ultralight receiver, $45-50 US would certainly place it in a price class with other excellent ultralights.