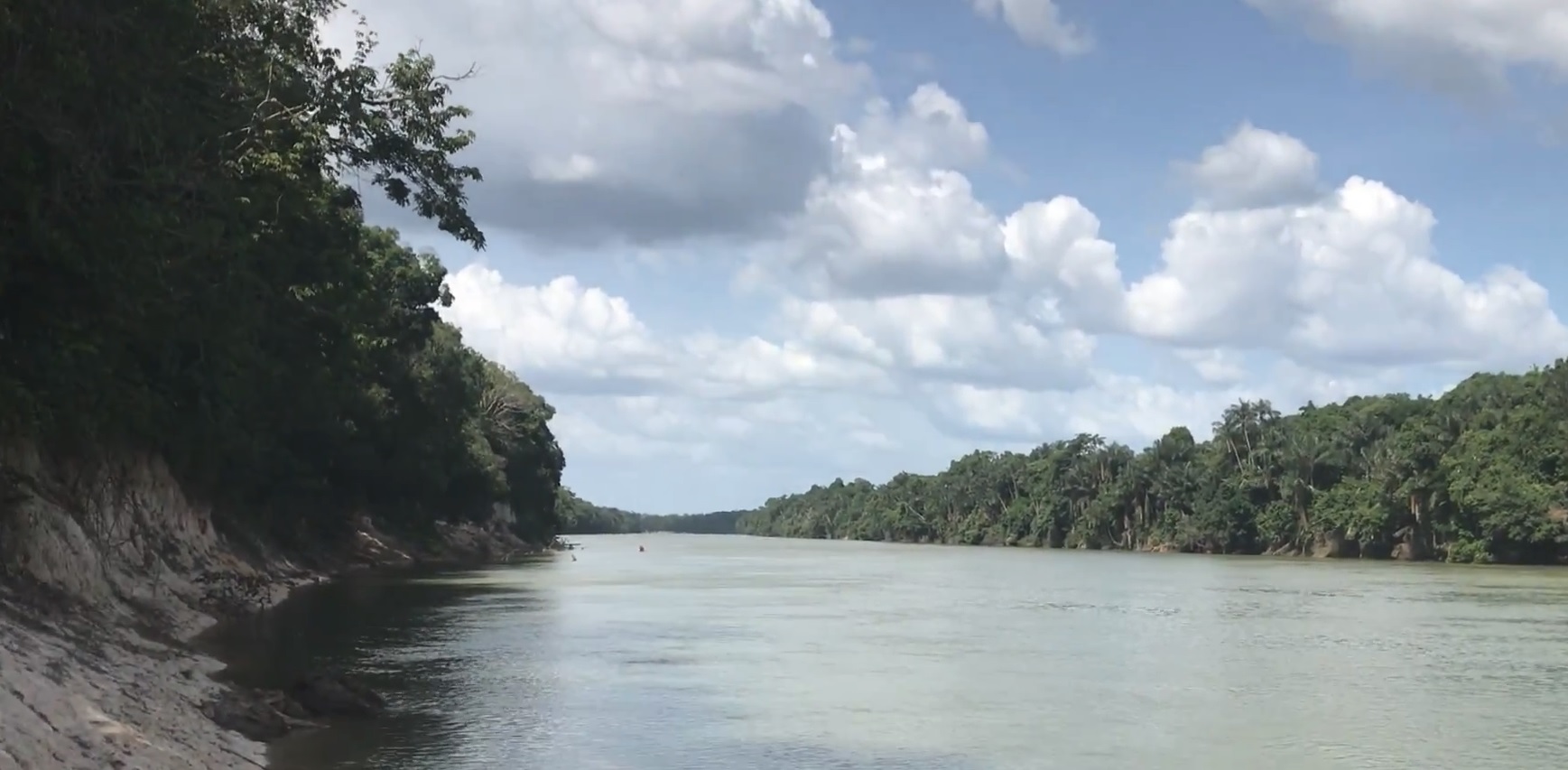 The beautiful Capim River in a land of Jaguars, Tarantulas and occasionally, wonderful shortwave DX
Hi there, I returned from my third trip to the Rio Capim area of Pará, Northern Brazil about 5 weeks ago, having been out there for exactly a month. Now, whilst this was strictly a business trip I always make time to tune around the bands, mostly shortwave, in the hope of copying some interesting DX. My previous two trips were reasonably successful; however, I didn't really hear anything new – just lots of Tropical Band – and tropical stations with much greater signal strength and clarity. Part of the problem is one of which most of us suffer from – the dreaded local QRM. Even in the depths of the rain forest noise is present from building electrical systems (particularly lighting) and other equipment. In my first attempt to escape the noise on this trip I ventured out of my accommodation building (basically a very large hut) to the wire fence that separates us and the larger fauna (although having said that, the monkeys and everything else that lives in the area appears to have no difficulty scaling a 6 foot fence – funny that! ). Anyway, ultimately, you've really got to want to hear something special quite badly to venture out. I suppose it could be the definition of hard-core DX! I tried this only once because as I was copying a very nice signal from Radio Guinea on 9650 kHz, I found myself about 2 feet from a Tarantula Hawk Wasp dispatching a very large spider (check out the very brief video on my YouTube channel). That was me done for alfresco DXing in the jungle.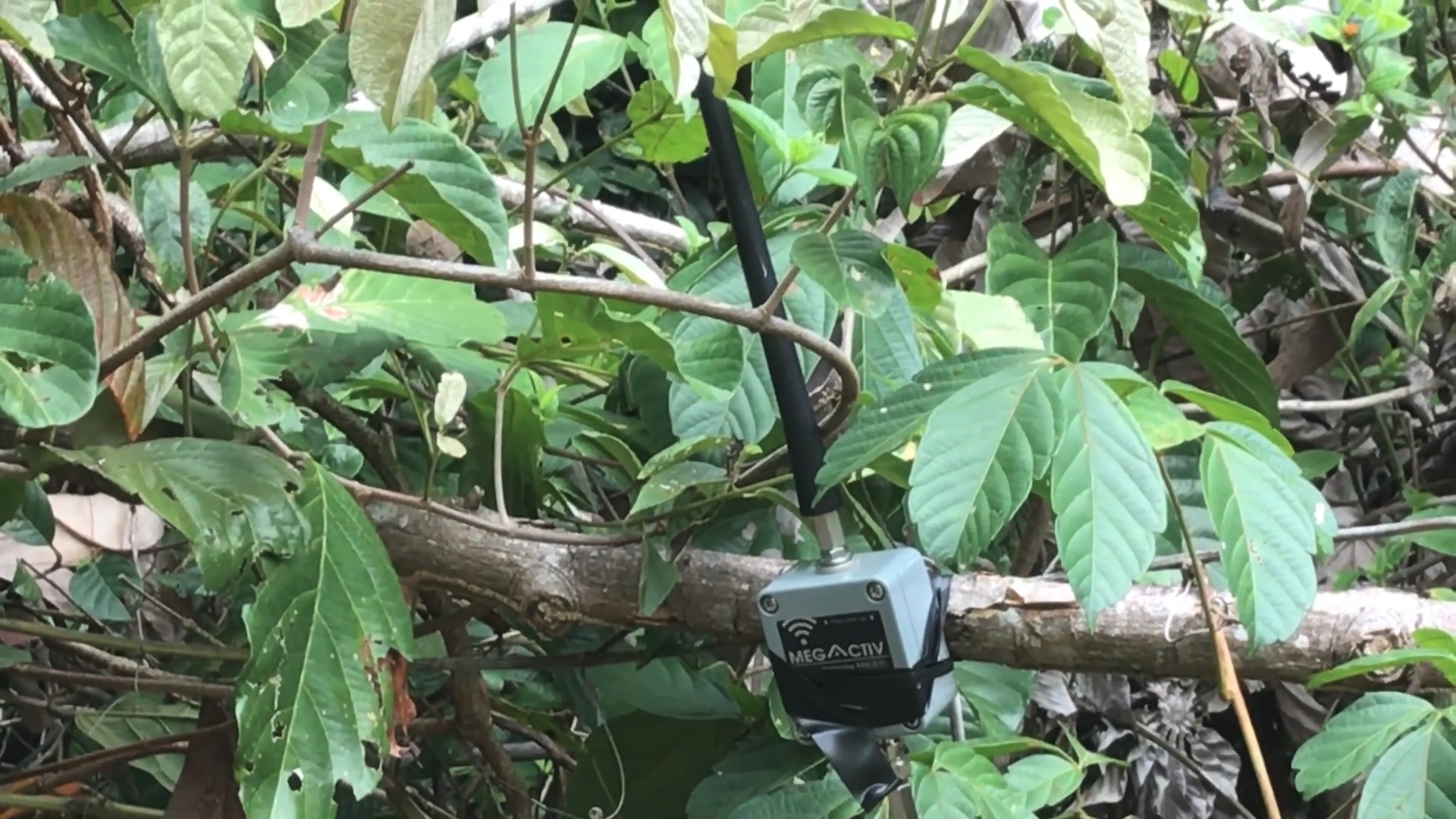 Bonito's USB-powered MegActive MA305 E-field antenna up a tree…performed superbly in Brazil
Fortunately, I was lent a 4-wheel drive truck for the duration of my visit and so I decided to find a quiet location to park up and listen to the radio – therefore only having to venture outside (at night) to place my antenna. One evening after dinner I got in the truck and drove around the site for a while until I found a location, effectively on the edge of the jungle that was mostly very quiet. Perfect…as long as I didn't end up as something else's dinner. I took the super-compact USB-powered Bonito MegActive MA305 antenna with me on this trip because I'd already tested it at home on DXpeditions and in Crete and thus I was confident as to how superbly well it would perform in a quiet location. To supplement my antenna choices, during the first weekend, I made the 90 km drive to the nearest town and bought, amongst other supplies, a 40 metre length of speaker wire and a 3.5 mm jack connector to make a temporary long-wire antenna.
In my experience, there are roughly 3 tiers of Tropical and Tropical Band DX on short wave. There's the bottom tier of stations which with a decent portable and a few metres of wire can be readily heard in the UK on a Dxpedition – and at home with a magnetic loop antenna, for example and a good quality table-top receiver or SDR. Amongst this group of signals I would include Rádio Clube do Pará, Brazil on 4885 kHz,  Radio Difusora Roraima on 4875.3 kHz, Emisoras Pio XII 5952.5 kHz, Radio Santa Cruz, 6134.8 kHz etc. etc. On the next tier are tropical stations that are really difficult to hear in the UK – but can be heard with good propagation and good equipment. This group includes Radio Aparecida  on 6135.2 kHz particularly, Rádio Educação Rural on 4925.2 kHz, Radio Tarma Internacional on 4774.9 kHz, Rádio Evangelizar (formerly Radio RB2) on 6040.7 kHz etc. There are many more examples from these two groups I could use, but you get the picture. Lastly, there is a tier of stations that are very rarely or never heard in Europe, irrespective of equipment or propagation. Often these stations operate with low TX power which makes them extremely difficult to copy anyway – and that leads to ambiguity farther as to whether they are even on-air. Furthermore, some of these stations broadcast very irregularly, which makes copying them even more of a lottery.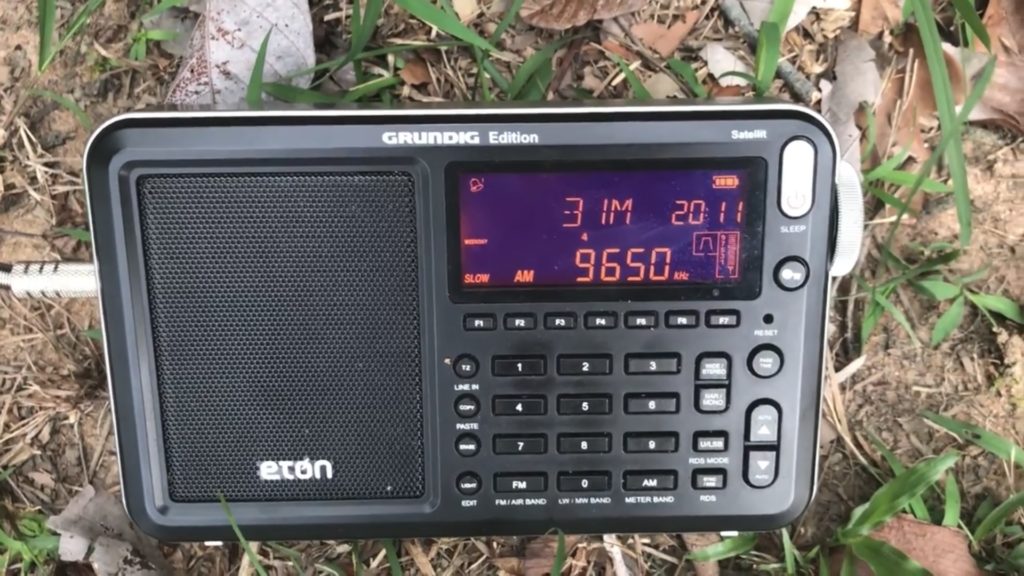 My mainstay travel receiver, the brilliant Eton Satellit..two-time veteran of South American DXing
In this context, a month in Northern Brazil was a useful timescale for surveying the Tropical Bands and geographically tropical stations for the presence of very rare signals. Fortunately, over many hours of listening in Rio Capim with the Eton Satellit and mostly the Bonito MegActive MA305 antenna, I manged to record six signals that are very rarely heard outside of South America. The list of stations follows below, complete with the antenna arrangement. Further below you will find embedded reception videos and text links to the same videos on the Oxford Shortwave Log YouTube channel. Please take the time to watch the videos and note the comments made by some of my subscribers with local knowledge. In particular, Rádio Gaúcha and Rádio Canção Nova on 4825 kHz are very irregular broadcasters and therefore I was fortunate to be in the right place, at the right time to copy their signal. More luck came my way with the reception of Radio Sora de Congonhas on 4775 kHz – made possible because of a total power cut on site, reducing noise effectively to zero (I was indoors at the time). I, personally, never heard anything else other than Radio Tarma, Peru on or around 4775 kHz – itself something of a rarity, except when conditions are very good.
In conclusion, I have to say, once again, the DXing credentials of the Eton Satellit and the Bonito MegActive MA305 USB-powered antenna are clearly demonstrated here. The perfect travelling companions for the serious DXer and broadcast band listener alike, I had no issues getting through security at any of the airports and their combined weight is unnoticeable in a fully loaded backpack. I definitely recommend both products. It's also worth noting that if you're travelling to a relatively remote location, even with modest equipment, you might be able to copy rare signals that will provide good information to the rest of us trying to hear those same signals from 1000's of km away. I will be returning to Rio Capim early in 2018 and I'm seriously considering taking my Perseus SDR with me. A superbly sensitive and selective receiver with noise reduction that actually works, it opens up the possibility of even more exotic DX on that trip.
As always, thanks for watching/listening/reading and I wish you all excellent DX and Season's Greetings. 73!
---
   The list of exotic catches and antennas utilised:
Radio Apintie 4990 kHz, Suriname – Bonito MegActive MA305
Radio Cançao Nova 9675 kHz Sao Paulo – 20 metre long-wire
Radio Verdes Florestas 4865 kHz, Cruzeiro do Sul – Bonito MegActive MA305
Rádio Gaúcha 11915 kHz, Porto Alegre – Bonito MegActive MA305
Radio Sora de Congonhas 4775 kHz, Congonhas – Bonito MegActive MA305 antenna
Rádio Canção Nova 4825 kHz, Cachoeira Paulista – Bonito MegActive MA305
---
Click here to watch on Oxford Shortwave Log YouTube channel
Click here to watch on Oxford Shortwave Log YouTube channel
Click here to watch on Oxford Shortwave Log YouTube channel
Click here to watch on Oxford Shortwave YouTube channel
Click here to watch on Oxford Shortwave YouTube channel
Click here to watch on Oxford Shortwave Log YouTube channel
---
Clint Gouveia is the author of this post and a regular contributor to the SWLing Post. Clint actively publishes videos of his shortwave radio excursions on his YouTube channel: Oxford Shortwave Log. Clint is based in Oxfordshire, England.