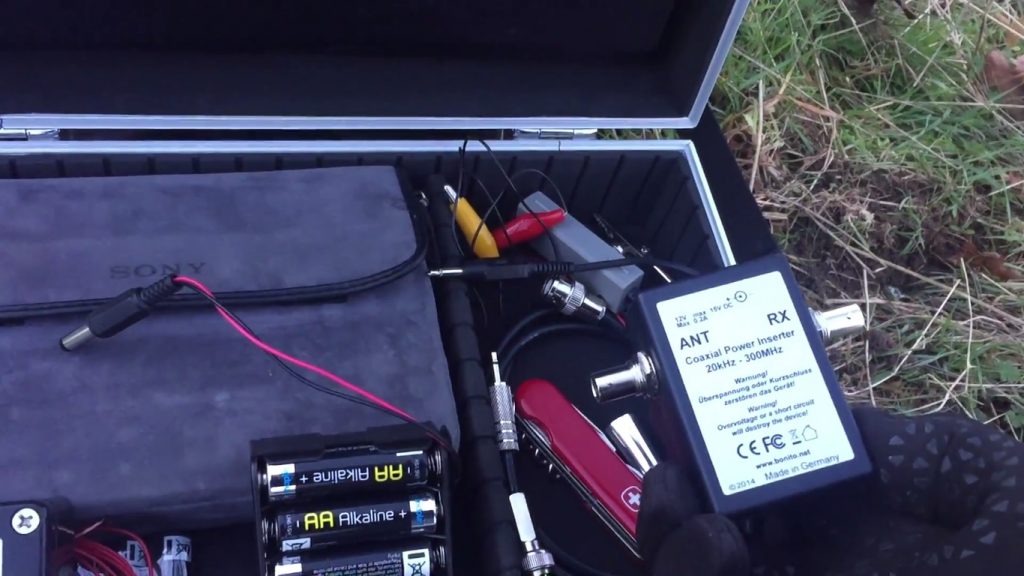 Hi there, subscribers to the Oxford Shortwave Log YouTube channel and regular readers of this excellent website will be aware that I have been using a Bonito Boni whip E-field wideband antenna for a couple of months now. You may have seen my previous post here, detailing some excellent initial DX results achieved with the Boni Whip. What makes this antenna so compelling for a DXer such as myself is simply that it's so light and compact; I can literally take it anywhere. Currently it lives in a small flight case (see above & below) on the back seat of my car, with either my Sony ICF-SW55 or Eton Satellit, a home-brew battery pack (that literally cost pence) and some peripheral bits and pieces; spare batteries, cables etc. I think it's probably already clear that if you consider the Boni Whip's performance as a function of portability and price, it's out there on its own – I'm not aware of another antenna that can match it. Of course, there are H-field antennas, such as the excellent Wellbrook active loops that will effectively reject QRM, if that's an issue for the user, but at a significant cost delta.
Since my last posting, I have continued to use the Boni Whip regularly on my DXpeditions and upload the reception videos to my YouTube channel. I have been nothing but totally impressed with this antenna, to the point that I've actually been surprised by the signals I've caught and recorded with it. Recent catches include a number of low-power stations from Brazil, including Radio Bandeirantes – Sao Paolo, Radio Voz Missionaria – Camboriu (on the 49 and 31 metre broadcast bands) and Radio Aparecida. Some of these signals are incredibly difficult to hear in Europe at all, let alone well and yet the ultra-compact Boni-Whip running off AA batteries, coupled to the (equally brilliant) Eton Satellit managed it with aplomb. Other catches include Zambia NBC Radio 1 – Lusaka and a signal from Bangladesh Betar that sounded as if the transmitter was 5 miles down the road!
All-in-all, I'm extremely satisfied with the performance of the Bonito Boni Whip and highly recommend it to those DXers requiring a high-performance, compact antenna, for use at home in electrically quiet environments or on any DXpedition. You certainly won't be disappointed.
Please find embedded reception videos below and text links that will take you to the Oxford Shortwave Log YouTube channel. Thanks for reading/watching/listening and I wish you all great DX.
---
Click here to watch on YouTube
Click here to watch on YouTube
Click here to watch on YouTube
Click here to watch on YouTube
Click here to watch on YouTube
Click here to watch on YouTube
Clint Gouveia is the author of this post and a regular contributor to the SWLing Post. Clint actively publishes videos of his shortwave radio excursions on his YouTube channel: Oxford Shortwave Log. Clint is based in Oxfordshire, England.